Another Pret A Manger Comes to Bryant Park
---
---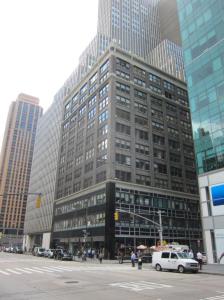 Employees who work at the Bank of America Tower and around Bryant Park will soon have another lunch option; U.K. import Pret A Manger, the coffee and food-on-the-go spot that has popped up around Manhattan, has signed a deal at 4 Bryant Park.
In a new 15-year lease, the company will take 2,100 square feet on the ground level and 1,789 square feet in the basement at the property, which is also known as 1071 Avenue of the Americas. The building sits between West 40th and West 41st Streets.
According to Adams & Co., the firm that represented the landlord Ten Seventy One Associates, the asking rent is $840,000 annually.
David Levy of Adams & Co. represented the landlord in negotiations. Mr. Levy did not immediately respond to a request for comment.
Ariel Schuster, Jackie Totolo and Michael Paster of RKF represented Pret A. Manger. RKF is the exclusive broker for Pret A Manger.
There are already a handful of Pret A Manger's in the Bryant Park area, including ones at 1026 Avenue of the Americas between West 38th and West 39th Streets, 11 West 42nd Street and 1410 Broadway between West 38th and West 39th Streets.
"Their stores are mostly in the major office corridors," said Mr. Schuster. "They'll be up to 43 stores in Manhattan, but they still have a ways to go in terms of growth. They're the best in their class."