Ziel Feldman and His Construction Binge, Starting With a Pair of High Line Projects
---
---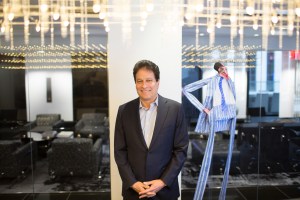 After four years of living on Park Avenue in the East 80s, Ziel Feldman will this year be moving to Marquand at 11 East 68th Street, a Beaux-Arts Revival rental-to-condominium conversion his firm is completing on Madison Avenue.
The chairman and founder of HFZ Capital Group (the H is for his wife Helene, F is for Feldman and Z is for Ziel) has worked on more than 30 conversion projects like The Chatsworth at 344 West 72nd Street, Astor at 235 West 75th Street, 11 Beach Street in Tribeca and One Madison Park.
From 1994 to the present, Mr. Feldman, 56, has bought, sold and developed 9 million square feet of property valued at $9 billion—and just since 2009 he transacted 6 million square feet ($6 billion) of that staggering figure.
He founded his Manhattan-based real estate investment and development company in 2005 and today he runs the 80-person company with Managing Principal Nir Meir. His two sons Jordan and Adam work at the firm, managing projects.
In Mr. Feldman's sleek offices at 600 Madison Avenue at East 58th Street, he maintains an eclectic art collection, most of which he said is by "emerging artists." Included in his collection is the hyper-realistic sculpture, The Student, by Patricia Piccinini, which is a pig-human baby hybrid with actual human hair. Mr. Feldman said the artwork came with a brush.
Mr. Feldman talked to Commercial Observer last week about his High Line projects, the status of sales at One Madison Park, the purchase of the Belnord on the Upper West Side and working with his sons.
Commercial Observer: This is for our Midtown South issue, so let's start with what you're doing there. When are you closing on 518 West 18th Street, which spans West 17th to West 18th Streets and from 10th Avenue to the West Side Highway?
Mr. Feldman: We signed the contract in November of last year. We're closing in April.
What's the sale price?
It hasn't been disclosed and I can't [tell you] until after the closing.
What address will you use for it?
76 11th Avenue or you know, 18 is a good number, generally, but I'm not sure yet.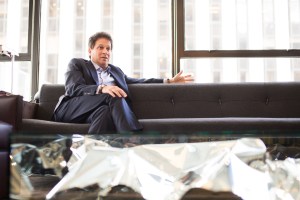 What's going on there?
We'll have a garage, we'll have retail, potentially a hotel, restaurants, galleries. We'll have a beautiful [public] park in front. One building is 400 feet high and one is 300 feet high. The blocks stagger between 80 feet high and 220 feet high. This was a special permit done by the seller [Edison Properties and its equity partners]—in return for giving a park to the city of New York. I think the footprint here is probably about [10,000] to 12,000 feet. And there's a great entry into our buildings and our hotel through the park. You are going to enter [the building] from the side. All the retail will be [on the side]. This park will definitely have access to the High Line. Maybe we potentially build retail beneath the park. We were very busy between 2009 and 2014. We didn't buy anything in 2014 until this site came along.
Why not?
Because we found things to be mispriced—a lot of aggressive underwriting.
What was the asking price?
There wasn't an asking price. They whispered a certain number. At one point there were offers higher than ours. We just convinced them that we'd be the best buyers. There's nothing to compare.
And how big will the retail component be?
Probably will have as much as 60,000 feet, generally. Whether or not we have [additional] retail [on 12th Avenue] as well, we did not include that because we're not sure. Twelfth Avenue is a big retail corridor, so this may have townhomes, but it's really a work in progress.
Who's the architect?
BIG is our design architect. We are going to team [BIG head Bjarke Ingels] up with some others but we have not decided yet who. So we'll have an interior design architect [and] an executive architect.
Where will the hotel component be?
If we have a self-standing hotel this would be the east building—maybe with residential above. Whatever hotel it is, it will service and brand the entire project.
Have you selected the hotel brand yet?
We're talking to many. [It will be] four, five stars. This location is very young—couples, kind of hip. It's increasingly wealthy. So I'm not sure that most of the five-star brands like the Four Seasons are appropriate for this location. A lot of the plans are still in flux.
If you look here [he points to an early project model], you'll see both buildings are being designed, even as it changes, so that they're not blocking each other. So the view of the water is unencumbered. See that gap? We have an office component on one or two floors because there is some demand for 100,000 feet maybe of office in the base.
Of the main building?
Maybe of both buildings and stretching over a bridge of sorts.
You're responding to a demand for 100,000-square-foot floor plates then?
Well, this area has become a huge demand for office. Google keeps expanding.
Are you trying to get Google in here?
They were one of the bidders on the property. We'll talk to them more closely.
Why did you want that particular site?
Well we're building a block away, right at 505 West 19th Street, so we know the area really well. [The 11th Avenue site] allows you to build 850,000 feet. You're on the water and you're on the High Line. But the best part about it is it's going to be the highest building allowed in all of the High Line. The property is what they call shovel ready; it's all been remediated. It's the cleanest site we've ever been involved with from a construction standpoint
What's the status at 505 West 19th Street?
We're just about finished with two 120-foot high towers by Thomas Juul-Hansen. It's two 10-story buildings connected underneath the High Line. It's residential [with] about 35 units. We're going to be starting to close on this in about four months, so not that far away.
Why did you want two sites so close to each other?
Every developer would like to build additional buildings near other successful buildings that he's built, especially if the earlier ones are already built and sold out.
HFZ is developing the site known as the former Bancroft Building at 3 West 29th Street, as well as 11 West 29th Street and 8-16 West 30th Street. Is it just the three sites?
There are a couple of more buildings to the west of it on 29th [Street] and it backs into some buildings. I don't have the addresses but several buildings back to back along 30th Street also. It's probably six buildings. The square footage is approaching half a million.
What's the plan?
That's a co-venture with [the] Collegiate [Churches of New York]. It's also in the formative stages. They were looking to develop the plot [next to the church]. The church spent several years meeting with the largest developers in the city and we in the end were selected. We are all in the planning process now but it will be one site. We're thinking potentially a hotel component, an office component for the church and then residential.
Do you have an architect for that project?
We do. We hired Moshe Safdie.
In Midtown South, you also have conversion projects at 88 and 90 Lexington Avenue.
It's two buildings—one is 88, which is more of a pre-war building—and there is 90, LexLofts. They're at the process of being renovated. We have an offering plan waiting for approval.
What's the appeal of taking existing buildings and converting them as opposed to building ground-up?
Well, we do both. They're both different animals. Renovations are harder than ground-up construction…especially [when] the tenants may still be in the building. Over the years, we've always specialized in renovating and restoring old beautiful landmarks and only got into the ground-up construction business in 2009. I used to be a founder of Property Markets Group back in 1991 where we renovated a lot of pre-war buildings. There are advantages and disadvantages. Some people love pre-war buildings. Some people want to live in glass towers. Your cost base tends to be a little less on renovated buildings—because they have some regulated tenants in them and that's reflected in their cheap price. And, overall, it's a little less expensive to renovate than it is to build ground-up but that could easily change depending on the configurations of the building. We develop wherever we think the opportunity is so it's not like we're selecting pre-war buildings over ground-up buildings.
Shifting uptown to the Upper West Side, you recently bought the 26-unit Belnord apartment building at 225 West 86th Street. You also bought it in 1994 with Gary Barnett of Extell Development when you were at Property Markets Group. When did you sell your stake in the building?
About four or five years after that.
How come?
Well, the partnership wasn't interested in converting the building at that time. It was an economic deal.
So you ended up buying it from Gary and other investors?
Right.
You bought it for $575 million, but Gary had a $375 million loan, though modified. Did you assume the loan?
No, I think it was paid off. We paid in all cash. We may have gotten the mortgage ourselves, but we paid it ourselves. It was part of the price. Nothing newsworthy about it. That was part of our deal. We only bought the residential and he kept the retail.
And you're going to turn that into a condominium, right?
Don't know yet… We would either keep it as a rental or convert it. The apartments are beautiful. In fact we're renting them now.
You're likely going condo though there, right?
Well, we're converters; we tend to be converters, right? What was interesting to us is we bought a square block [on the High Line] at the same time we bought the square block on the Upper West Side. There are two square blocks that we're going to improve on.
OK, so what is happening at 20 West 40th Street? Is it a hotel-condo?
We're in the ground. We're building a hotel in the base of the building from [the] ground floor to 15. And then from 16 to 32, we're building a condo. David Chipperfield designed the building.
So you bought it with some other investors in 2010 but then nothing happened much for a while. Why has that been so slow to get going?
[HFZ bought the site out of] foreclosure [in 2010]. It wasn't slow; we had it on the market for a while to sell or JV. By the time we had the offer that we found was attractive enough, the market had continued to move up and we decided to do it ourselves.
Are you the most active developer in Manhattan today?
You're never going to hear me say that. I don't know if we're the most active, but there's no one more active than us.
Do you think that we are in a housing bubble?
The word bubble I don't like. I'm not sure what that means, but I don't think we're in any kind of bubble. Everything is always supply and demand driven [and there is] definitely more demand in Manhattan than there is supply and the issue is other than in the Hudson Yards and maybe parts of FiDi, the rest of Manhattan is very land constrained.
How many units are left at One Madison Park?
We still have a handful of units left there. One may be a duplex. Sales are great there. We were at the right place at the right time.
Your sons work at HFZ. Have you ever had to reprimand either of them?
No, it's tricky. This is not like a real estate dynasty business; it's not multi-generational. I'm the first generation.
So have you had to reprimand either of them yet?
No, if they were to be reprimanded, it would probably be by [Mr. Meir] or John Shannon [the senior managing director] or people they work for.
Have they caused any trouble yet?
They haven't made the paper so that's good. They're both very good.