So They Say: Sheldon Silver
---
---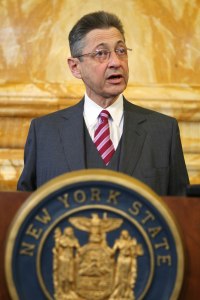 Democrats of the New York State Assembly found themselves electing a new speaker last month, following the resignation of the legendary Sheldon Silver. Mr. Silver, 71, is now facing federal corruption charges—a dark ending to his 21-year term as one of New York State's most powerful politicians.
The charges sparked a wildfire of further investigation as prosecutors search for more people involved in the criminal behavior, which included allegedly trading favors for cash and referrals.
Mortgage Observer takes a look back at quotes from the speaker's lengthy time in office.
"My Lower Manhattan district was one of the communities that were hard hit by this devastating storm, and we are still struggling to recover."
—Statement regarding Hurricane Sandy repairs with Commercial Observer (2013)
"I believe that Governors Island needs a more permanent and reliable funding stream so that it can continue to serve New Yorkers. If the city can provide such funding, along with a commitment that the Lower Manhattan community will have ongoing input regarding the future of Governors Island, I would not be opposed to a city takeover."
—DNAinfo (January 2010)
"Am I supposed to turn my back on Lower Manhattan as it struggles to recover? For what? A stadium? For the hope of bringing the Olympics to New York City?"
—At a press conference regarding the possible construction of a stadium on Manhattan's Far West Side, The New York Times
(June 2005)
"I would think the Governor should look at the record as to who has been frightening tenants. He and his colleague, the majority leader, came out in December telling tenants he was going to end the rent laws.''
—Statement to The New York Times (May 1997)
"What I want to accomplish is to stop the charts from going off the wall in terms of how much we spend on the corrections budget so that we can use some of that money for productive things, including education and economic development that will create jobs. It may come to mind that I'm a criminal justice liberal. I tend to think of myself as a fiscal conservative. It's a question of practical dollars."
—Interview with The New York Times (April 1994)