Old Dallas BBQ Home on UWS Sells for $9.5M
---
---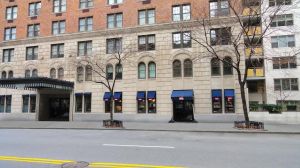 The former location of Dallas BBQ, a 9,600-square-foot retail condominium unit on the Upper West Side, has sold for $9.5 million to Jack Terzi of JTRE Holdings, Commercial Observer has learned.
The retail condominium is located at 27 West 72nd Street between Columbus Avenue and Central Park West and features 7,200 square feet on the ground floor and 2,400 square feet on the lower level. The retail condo is outfitted as a restaurant and sits at the base of the Alcott, a 16-story, pre-war residential condo building.
RKF's Jeffrey Fishman and Ross Berkowitz represented Mr. Terzi and Stellar 85 LLC, the seller, in the transaction.
"The lease with Dallas BBQ was about to expire and the pending vacancy was not a deterrent to this buyer," Mr. Fishman said in prepared remarks. "The time frame of this transaction moved incredibly swiftly, as properties in the high barrier-to-entry Upper West Side market do not last long."
Stellar 85 is affiliated with Stellar Management, a real estate company run by Laurence Gluck. Mr. Berkowitz will be marketing the space for lease on behalf of the new ownership.
"Mr. Berkowitz has already received lots of inquires about the space," said Mr. Fishman. He noted that asking rents have not yet been established.
The deal closed last Friday. Mr. Terzi declined to comment.
The West Side Rag reported that this Upper West Side location was the first for the barbecue joint in the city, having opened its doors in 1978. This location shut its doors earlier this year. However, there are other Dallas BBQ locations throughout the city, including in Times Square, Chelsea, St. Marks Place and in Downtown Brooklyn.