LES Work-in-Progress 164-166 Attorney Street Hits the Market
---
---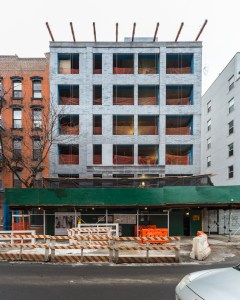 An in-progress development on the Lower East Side at 164-166 Attorney Street, between East Houston and Stanton Streets, is up for sale, Commercial Observer has learned. Ariel Property Advisors expects the building to trade in the low- to mid-$20 million range.
Approved for 22 apartments and a 3,600-square-foot ground-floor commercial space, the seven-story concrete shell is owned and in development by 164 Attorney St. LLC, a private partnership of Lower East Side investors. Ariel has been retained to sell the property, which was purchased in two different transactions, one for $3.5 million in July 2008 and the other in March 2012 for $2.2 million, property records indicate.

The 28,424-square-foot (23,237 above grade) building is currently being fitted for plumbing, electric and mechanicals. There will be individually-metered heating and cooling systems in each apartment, individual storage units in the cellar and bike storage.
The project could be finished and available by summer, if it remains a rental, said Jesse Deutch via a spokeswoman. Plans have been filed for a rental property, but a buyer could amend plans for condos.
Mr. Deutch is in charge of marketing efforts and requesting proposals for the building. His team consists of brokers Victor Sozio, Michael A. Tortorici, Howard Raber and Shimon Shkury.
"If the building remains a rental, young professionals, students, artistic types would be potential tenants for the apartments," said Mr. Deutch. The property is near NYU and Cooper Union. "For the retail space, the owners could take advantage of the growing restaurant scene in the area and lease to a restaurant, or it could be leased to a community facility."