Industry City Unveils $1 Billion Plan
---
---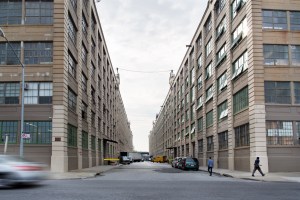 Industry City stakeholders announced today details for the redevelopment of its 6-million-square-foot waterfront complex in Sunset Park, a reinvigoration that is being sparked by $1 billion worth of investment and the growing demand for space for the "innovation economy" that has taken root in Brooklyn.
Plans for the development—which is owned by Belvedere Capital, Jamestown Properties and Angelo Gordon, along with Cammeby's International and FBE Limited—are set to unfold over several years and build on the success already enjoyed by the complex. (In the past year, Industry City stakeholders have already invested $100 million into the complex and have leased over 850,000 square feet.) The development will include academic space, a 900,000-square-foot expansion of on-site retail and a hotel catering to local businesses. Four million square feet of space for "innovation economy" companies and modern manufacturing will be brought online, making Industry City the nation's largest, privately-owned adaptive reuse space (it is already the largest privately owned industrial complex in New York City.) In order for this plan to come to fruition, the complex would need to undergo rezoning to be considered through a Uniform Land Use Review Procedure.
Two of the most noteworthy changes to Industry City will be the proposed hotel and the expanded retail space. Andrew Kimball, the chief executive officer of Industry City, stressed that "when we grow to 20,000 jobs, we're going to be a mecca for business. We're going to need a place for people to stay, right here on-site."
Though an exact location for the hotel has yet to be solidified (and will likely take another five years to come to fruition), it is expected to include roughly 400 rooms.
"We foresee this as a business hotel," said Mr. Kimball. "It's got to be affordable for manufacturing and innovation businesses that are coming here."
However, the hotel will still have a small footprint (approximately 280,000 square feet) relative to the size of Industry City.
Expanded retail is "absolutely critical" to the future of Industry City, said Mr. Kimball. The additional space will not only cater to Industry City employees, but also for community members who have long had to travel to Downtown Brooklyn for their shopping needs.
Mr. Kimball also said that expanding retail at Industry City also behooves the economics of the complex.
"We need some higher return uses," he said.
If the plan receives the necessary green light from the public approval process, Industry City estimates that the complex will have an annual economic impact of $6 billion. By its own calculations, the investment will also create jobs for 13,300 people on-site over the next 12 years, with another 5,800 indirect jobs expected to materialize both in Sunset Park and the rest of the borough.
"In his speech last Thursday, the mayor called on the private sector to step and create good-paying local jobs," said Mr. Kimball. "And that's what this project is all about. After decades of decline, we are about to launch a plan for economic growth."
In recent years, tech and manufacturing has become a critical component of the borough and city's economy as less emphasis is placed on the financial sector.
"This is a moment to celebrate. We've [now] seen the vision," said New York City Council Member Carlos Menchaca, whose district includes Sunset Park and Red Hook. "So many of the pieces are going to include community engagement. [Industry City is] going to include jobs for the local community which has been asking for this for 20 years."
Mr. Menchaca also expressed concern about the area's large immigrant community, primarily from Mexico and China, that have long been excluded from many entrances into the workforce.
"We have a huge immigrant population that has trouble engaging with government or any other programs for workforce [development]," said Council Member Menchaca. "That's going to be a challenge, [but] I heard today that Industry City is going to focus on making those connections happen."
Yet, in order for Industry City to achieve its vision, it will need cooperation from the city that extends far beyond approval for updated zoning. There are requisite public improvements to be made to ensure the area remains compatible with its growing workforce and a desirable place to live and work. These include investments in public infrastructure, ferry service (which is set to resume in 2017) additional bike lanes and green space. This is all to ensure that what the partnership is undertaking will not mirror other developments.
"I'm often asked, 'Is this going to be Chelsea Market?' This is not going to be Chelsea Market. This is not going to be the Brooklyn Navy Yard. It's not going to be the Philadelphia Navy Yard," said Mr. Kimball. "It's going to be Industry City. It's going to be unique and it's going to be something that breaks new ground."