Flute-Occupied Flatiron District Condo Sells for $4.7M [Updated]
---
---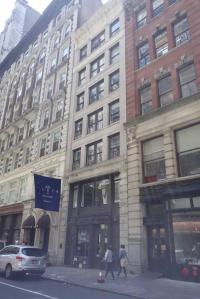 Diamond Properties has sold a 1,900-square-foot ground-floor retail condominium unit occupied by Flute champagne bar and lounge in the Flatiron District to Walter & Samuels Chairman David I. Berley and his investment group for $4.7 million, Commercial Observer has learned.
The retail unit is in the 1925 mid-rise landmark luxury condominium apartment building at 40 East 20th Street between Broadway and Park Avenue South, and includes 1,600 square feet in the basement.
Adelaide Polsinelli of Eastern Consolidated represented Mr. Berley in the deal. Her colleagues Peter Hauspurg, David Schechtman, Abie Kassin and Evan Papanastasiou represented Diamond Properties.
As for why Diamond Properties sold now, Ms. Polsinelli said: "The timing was right. It made sense to unlock the asset and deploy the equity towards other pursuits."
Mr. Berley also owns neighboring 30 East 20th Street, a seven-story office and retail building where Parisian rotisserie Le Coq Rico will open its first U.S. restaurant later this year.
"This block of East 20th has become the restaurant row of the Flatiron," said Mr. Berley in prepared remarks. "We are thrilled to have acquired a second location on the corridor and believe that both locations will add value to our portfolio as well as the block, which is already firmly established as a destination for high-quality restaurants."
Update: This story was edited to include revised broker details.