Fashion Firms Flock to Garment District Building
---
---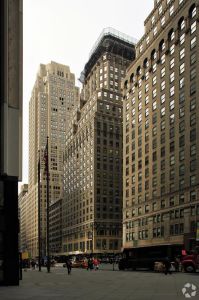 Three fashion companies, selling goods from men's sports T-shirts to high-end lingerie, have new or expanded leases at 530 Seventh Avenue, the building owner Savitt Partners announced.
The 490,000-square-foot building is between West 38th and West 39th Streets.
Contemporary fashion company Mutyaar signed a deal earlier this month for 1,700 square feet on the 10th floor. It will move up the block from 485 Seventh Avenue.Lingerie and shapewear maker Triumph of Europe renewed and expanded its lease by 1,900 square feet in late February—nearly doubling its space to 3,600 square feet on the 14th floor of the building. Moateng Group, a new company that manufactures men's T-shirts, inked its first deal at the building for 900 square feet on the 24th floor.
The average asking rent was $58 per square foot, according to a Savitt spokeswoman, who declined to provide the lengths of the leases.
Brian Neugeboren and Nicole Goetz, both of Savitt, represented the landlord as well as Triumph and Moateng in the deals. Neither broker was available to comment, according to a spokeswoman. Jared Freede of CBRE represented Mutyaar. A spokesman for CBRE declined to comment on the lease.