Erik Horvat on Leading Fosun Into Its Future in NYC
---
---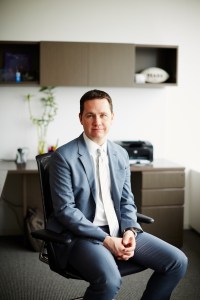 Last week, 28 Liberty Street, previously owned by JPMorgan Chase & Co., hosted the equivalent of its own debutante ball. Shanghai-based Fosun International, which purchased the 60-story, 2.2 million square-foot downtown property in late 2013, threw a Chinese New Year party in the middle of a late-winter ice storm to showcase the building and introduce itself to the New York real estate community. On the 44th floor of the Class A, landmarked tower, guests enjoyed peking duck slathered in hoisin sauce and watched live acrobats bend and twist, as a 60-foot dragon dangled above the bar bearing witness to the scene unfolding below. (They also raffled off gifts of near insane luxury including first class tickets to China; and thousands of dollars worth of gift certificates at Saks).
Though it is one of China's largest private conglomerates, Fosun International is unquestionably an outsider in New York City's insular real estate sphere. Recognizing this shortcoming as it attempts to break into the metropolitan market, the company hired Erik Horvat, a Manhattan real estate insider and former director of World Trade Center redevelopment at the Port Authority of New York and New Jersey, last year. At the party, Mr. Horvat graciously greeted colleagues and longtime friends (with one eye on his phone — his wife is imminently going to give birth to their child), emphasizing his excitement about Fosun's rebranding of 28 Liberty, previously known as One Chase Manhattan Plaza.
Mr. Horvat, 43, is now the managing director of Fosun Property Holdings. He is responsible for ensuring 1 million square feet of available space at the property, which has enjoyed a complete renovation under its new ownership, is leased (JLL is the exclusive leasing agent for the building). Mr. Horvat sat down with Commercial Observer and discussed the future of 28 Liberty and Fosun's ambitious plans for expanding within the city.
Commercial Observer: When did you make the jump to Fosun from the Port Authority?
Erik Horvat: I left eight months ago.
So you're still relatively new at Fosun. 
I am still relatively new. We moved into this office two weeks ago. Just to give you a sense of how fast Fosun is moving, when I started here, we didn't even have an architect selected, much less anything done. We hired an architect. We designed the space. We hired the construction team. We built the entire space and we moved in, [all within] six months. If you had asked Gensler, which was our architect, they would have said [the speed with which this was completed] was unheard of, but they did it anyway. And they did a nice job.
Why did you choose to move to Fosun? 
Fosun is this very entrepreneurial place. I'm a firm believer in the Chinese movement that's been here, specifically with Fosun. They have this big enterprise that has multiple fields. For me, I think it was this particular firm and the things they have done in the past. It was the logic of why they bought this building and the belief that it could be an amazing place. It said to me 'This is going to be an opportunity to build and be an entrepreneur.' I think that's really exciting.
Can you tell me more about Fosun as a firm? 
I think Fosun's very bright. They do things globally. They're used to coming in as a Chinese entity to a new place and becoming part of the fabric of that area.
Clearly bringing you on board is part of that. 
I think that's right. I'll tell you, [Mr. Bo Wei, Chief Representative of Fosun in the U.S. and Vice President of Fosun Property] is an amazing guy. He's very respectful of the local culture.
And he wants to embrace it. When I met with him, those were the questions I was asking in the interview.
How are you serving as the intermediary between the Fosun and the New York real estate community? 
Fosun has been very successful in China. They're hardworking, They know how to execute and they're highly intelligent. My job is to convey the differences in the local market, explain the touchpoints that matter, and to help facilitate their understanding so we can move quickly. And Fosun, when they bought this building, they were able to move quickly without me here.
The market was shocked [at the speed with which the deal was completed.] They work pretty quickly. I know the development market. I know how to underwrite deals. I'm well-connected to the people that want to do things, and I think that we're going to grow in a thoughtful way.
This [building] we're doing ourselves. We may partner with others in the future, maybe that will help the learning curve as well. But this one we're doing ourselves and I think it's going pretty well.
Is this Fosun's first building? 
Yes, this is our first asset. Fosun has been here for awhile and they've done other stuff. But this is their first big real estate purchase.
How do you see your role evolving here? 
Like any entrepreneur organization, we're growing. This office is an example of that. We have a good base of people here. But we're going to be hiring and looking for good people. We need to do some of that in order to thoughtfully expand. Fosun is a very astute investor [and believes in] do[ing] deals that have strategic importance and make sense. I think short-term, we'll be building out a team that we think is really the right team and culturally understands the global picture. We've been getting a lot of phone calls.
Mostly from financial firms? 
From everybody. It could be somebody with a one-off deal. It could be from a broker. They all want to talk to Fosun and for good reason. They are a proven executor and they have a lot of money. But we need to, first and foremost, build that team [that is involved with leasing and the expansion of investments].
What else should we know about 28 Liberty? 
This goes to the vision of our chairman and Fosun being this big-thinking firm. I think a lot of people looked at [28 Liberty and were daunted] saying 'There's roughly 1 million square feet to lease!' When Fosun looked at it, they said 'That's where the opportunity lies!' because you have an asset that is beautiful and landmarked. It has great bones. It's revered. People love it. It's iconic. It's a period piece. What Fosun said when they saw this is 'J.P. Morgan's here. They're leaving and that's the opportunity to rebuild and re-establish the infrastructure.'
In fact, it could be better because Downtown is doing far better than Midtown. 
Totally. I think it was a very wise move [to purchase the property]. The other thing I would say is that there have been a lot of conversions downtown. [There have been conversions at] 140 West Street, 70 Pine Street. There are all of these buildings that have been converted away from office to residential. So, I actually think it's a smart way of thinking to say, 'I want to own the best office buildings in a market where people are converting away from it. And I want to make them better office buildings.'
Where does Fosun plan to buy more property?
In addition to the New York metropolitan area, Fosun is open to expanding into markets such as Los Angeles, San Francisco, Boston, and other key locations throughout the U.S. We are actively seeking opportunities in these markets, which we believe have the potential for strong risk-adjusted returns.
How does Fosun plan to expand in the U.S.?  
Fosun will expand by establishing local partnerships with key market players and by building our own management teams capable of executing on the ground.  The scale and scope of the projects we find in individual markets will determine our approach to each opportunity.
Had you been to China before taking this job? 
Yes, I previously visited China three times prior to taking the job.  I visited Beijing, Hong Kong and Shanghai for pleasure, and to learn a bit about the real estate markets over there.  Great cities with good food.  More recently, I have been lucky to have visited China again as a team member of Fosun at their annual conference, which included all the sister companies, called the Fosun Family.  It was amazing to see how diverse and strong the company is in various businesses around the world.
Do you travel to China often now? 
I've gone and I will go regularly. About once a quarter or once every six months.
How did you get into real estate? 
I got into real estate in a roundabout way. Before business school, my father-in-law was in construction. And I had studied accounting as an undergrad and I had my CPA. And I just did not want to do that. So he invited me to get into the business [on the office end]. And it was a design-build union construction business in Chicago [which is where I grew up]. I did that for about five years. While doing that, I learned about how you deal with unions, how to build big projects and construction. That became the underpinning of it all. Accounting is about the building blocks of business, how numbers work. Having the construction side really rounded it out so I could understand and underwrite deals. And then I went to business school [at Columbia].
What do you consider your biggest victory as a real estate professional thus far? 
I was very proud of the observation deck transaction [at 1 World Trade Center] which was super complicated. It involved a lot of stakeholders. Every year, 4 million people are going to walk into that experience. I think I structured it in a way that was with a very good partner for the Port Authority and Durst and is in a way that ensures that it's refreshed regularly and that it's a good experience. I think that's kind of neat. I've done residential. I've done retail. I've done office. But this is unique and different, and it's going to be up there forever. It's going to be something to point to.