Eight-Story Hotel Planned for Greenwich Street in Tribeca
---
---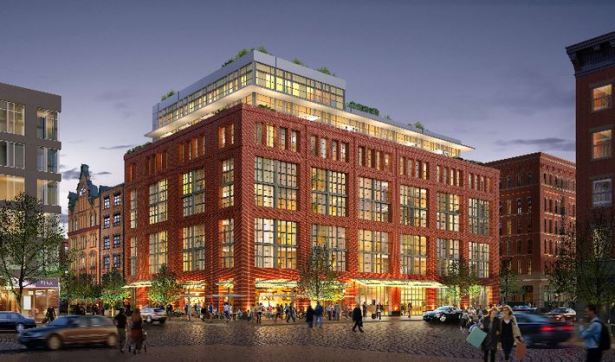 Western Heritable Investment Company, Caspi Development and Barone Management are planning a 90- to 100-room hotel at 456 Greenwich Street in Tribeca, Commercial Observer has learned.
The eight-story, 93,900-square-foot hotel will have 90 to 100 guestrooms and suites, a restaurant with a bar, a 1,500-square-foot interior courtyard, a spa, a swimming pool, meeting space and a screening room, according to JLL, whose hotels and hospitality group was tapped to lead advisory efforts at the site. Plans may also include a private member club. 
The site, which runs the entire length of Desbrosses Street and up Washington Street, is in part occupied by a one-story red brick garage building.
"While a portion of the site falls within landmarks and a portion does not, the partnership has chosen to keep the integrity of the rich historic district of New York that is Tribeca and is creating a building over the entire 12,000-square-foot site under the Landmarks Preservation [Commission] approval," the JLL team said via a spokesman. "Based on the zoning of the parcel, the developer has concluded that the highest and best use for the site is luxury hotel."
JLL is running an exclusive and targeted Request for Proposals, or RFP, process for the hotel brand.
At the end of last year, architect Gene Kaufman designed a restaurant conversion at the site, which won LPC approval, Curbed reported at the time.
While JLL declined to name the current project's architect, a spokesman said to credit Stephen B. Jacobs for the rendering. Mr. Kaufman didn't respond to a request for comment and Mr. Jacobs, the president and founder of Stephen B. Jacobs Group, wasn't immediately reachable.
The site has one active city Department of Buildings permit for a sidewalk shed. No recent applications have been filed at the site and there are no open complaints there.
"An unprecedented amount of new and redevelopment activity is taking place in Tribeca and the planned opening of the hotel, by our client, will coincide with the development of in excess of 20 million square feet of new or converted commercial, retail and residential space in the vicinity," said Jeffrey Davis, who heads up the New York office of JLL's Hotels & Hospitality Group, in prepared remarks.