Brooklyn's Sunset Park Comes Alive
---
---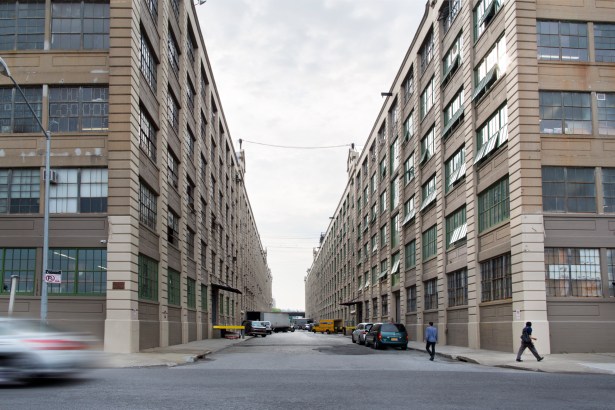 People who have long watched Brooklyn real estate might feel a peculiar sense of déjà vu: A neighborhood with an old, industrial building stock on the waterfront is suddenly roaring back to life thanks to young, hip, tech—and other creative—tenants.
You'd be forgiven if you thought we were talking about Dumbo.
No, we mean Sunset Park—specifically, the sprawling manufacturing complex, Industry City, which sits on the Brooklyn waterfront. And with rents at around $20 per foot (sometimes less) one can understand why a lot of up-and-comers want to be here, rather than under the Manhattan Bridge overpass, or in Williamsburg, where rents are $45 per square foot.
The tale of the resurgence of Industry City and other Sunset Park properties is perhaps the ultimate adaptive reuse story, one that embodies how Brooklyn real estate is changing to meet the needs of the growing technology and innovation sectors. The 6-million-square-foot Industry City development is comprised of 16 buildings across 30 acres on the Sunset Park waterfront. It is owned by Belvedere Capital, Angelo Gordon and Jamestown; the partnership acquired the properties in August 2013. The trio is investing $100 million in capital improvements in the development over two years to appeal to TAMI (technology, advertising, media and information) tenants, artists and companies partaking in modern manufacturing. As a firm, Atlanta-based Jamestown is focused on the revitalization of underutilized urban assets, and was behind catalyzing Chelsea Market from former factory to wildly popular artisan market. Also in 2013, Andrew Kimball, then the head of the Brooklyn Navy Yard Development Corp., was tapped by Jamestown to become the chief executive of Industry City. He is now in charge of the properties' redevelopment and is working to ensure that Industry City enjoys the same renaissance experienced by the Brooklyn Navy Yard.
What changed the fortunes of Industry City and Sunset Park?
Certainly, an important impetus was the push by the Bloomberg administration to make technology and creative startups a larger proportion of New York City's economy.
According to the Brooklyn Tech Triangle Strategic Plan released in 2013, these companies were "flocking to the Tech Triangle"—encompassing Dumbo, Downtown Brooklyn and the Brooklyn Navy Yard—because rents in this area were between 30 and 50 percent cheaper than Midtown South. But that was then. Space in Brooklyn's Tech Triangle has been scarce for a while. The natural expansion of this dramatic growth has continued along the Brooklyn-Queens waterfront.
This marriage of underutilized Brooklyn warehouses and technology companies is particularly well-suited. Many of these cavernous spaces are raw, making them easily adaptable to accommodate exponential growth. The space is authentically (and fashionably) industrial and the stock sits on waterways or rail lines once used to transport the goods manufactured within their walls, making them easily accessible.
"Much of the recent excitement about Brooklyn comes from the creative adaptive reuse of facilities that were built to serve the maritime and manufacturing industries as well as the U.S. armed forces," said Tom Montvel-Cohen, the chair of the Dumbo Improvement District. "The Navy Yard and Army Terminal, former military bases, now house hundreds of creative young businesses. Brooklyn Bridge Park was a shipping complex for 200 years. The conversion of the former Domino Sugar and the evolution of Industry City are examples of historically significant industrial facilities become the future of Brooklyn before our eyes."
With firms looking to expand, all signs point to Industry City and Sunset Park as the next spot for creative innovation.
"If you could think about what Dumbo was like 10 to 15 years ago, this is where Industry City is today. But it's not going to take 10 or 15 years for Industry City to take off," said Tim King, the founder and managing partner of commercial real estate firm CPEX headquartered in Brooklyn.
Industry City by the numbers 
"Industry City is such an important space for New York," said Jonathan Bowles, the executive director of Center for an Urban Future, the Manhattan-based think tank that focuses on policy issues that impact cities. "Fairly affordable or mid-range commercial space for tech companies, creative companies and manufacturing firms is in such short supply. There are incubators across the city and there are co-working spaces, but spaces like Industry City are going to be housing the growth companies for New York City."
Adjacent to the Upper New York Bay, Industry City stretches from 32nd to 41st Streets and from Third Avenue to the waterfront in Sunset Park. Today, some 400 companies employ roughly 3,600 people at the site. Thousands of new jobs are expected to be created there over the next 10 years.
"After decades of disinvestment as a result of the decline in manufacturing, Industry City can once again become a valued asset in terms of nurturing the growth sectors of the city's economy," said Mr. Kimball via a spokeswoman. "The revival of this massive complex can lead to great job creation and entrepreneurial opportunities for people with a wide range of skill sets and educational backgrounds and help revive Brooklyn's working waterfront in Sunset Park and beyond."
Like much of the Brooklyn waterfront, the area is largely M-zoned, which means it is set up for manufacturing.
"It's not smokestacks anymore," Deputy Mayor Alicia Glen said of the manufacturing underway in South Brooklyn. "If you're making chocolate or you're making dresses or making salsa… many of these companies provide really good-paying jobs [that can lead to] a real middle-class existence."
According to a spokeswoman for the complex, approximately 40 percent of tenants are in high-employment innovation economy businesses, 30 percent are using space as warehouses or for storage and 30 percent of the space is still vacant. The vacant space is particularly important; as New York City vies for Silicon Valley's title as tech capital of the world, it becomes critical that graduates of the city's new engineering and applied sciences campuses have room to grow their businesses.
Because spaces at Industry City are outfitted drastically differently (from creative workshops to full-fledged factories), there is a dramatic range of rents. For each type of space, the rent rates are competitive with comparable ones at industrial waterfront properties in Brooklyn; most of the new leases have rents ranging from the mid-teens to mid-$20s per square foot, according to the development's spokeswoman.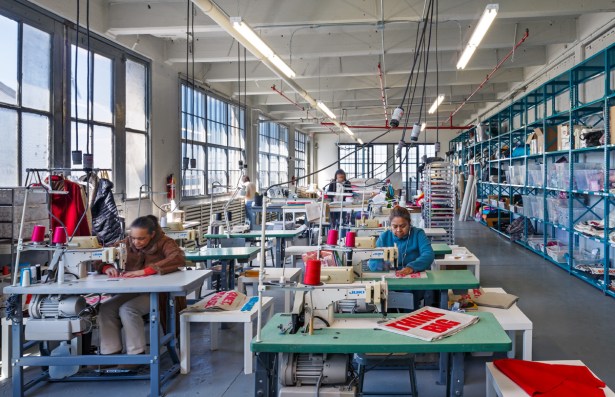 Creative companies call Industry City home
The tenant mix at Industry City ranges from Alexandra Ferguson, which makes eco-friendly pillows and accessories in its 4,000-square-foot factory, to Blue Marble Ice Cream which has its own ice cream-making plant, to ReCaFo a food purveyor making "real Caribbean food." The Brooklyn Nets are slated to move into its new state-of-the-art Hospital for Special Surgery practice facility this year.
The developers have also created a food hall, which has 40,000 square feet of artisanal foods in a neighborhood that does not cater to locavores. The loading docks between Building 1 and Building 2 have also been redesigned into a courtyard for tenants, replete with landscaping and hanging lights. And the views of Lower Manhattan and New Jersey are unmatched.
San Francisco-based Shyp, a mobile app that provides users with an on-demand shipping experience, is one company that decided to dock in Industry City.
"New York City has a traditionally tricky commercial real estate market, so we did search high and low for the right base," said Kevin Gibbon, Shyp's co-founder and chief executive officer. "As a central hub for shipping and exports for more than 100 years, Industry City is a strategic location for Shyp's growing New York City operations, which currently span Manhattan and Brooklyn."
From Industry City, the company can build a scalable logistics network that will expand to New York's three other boroughs and additional cities using the current packaging and shipping facility.
Demographics are also a selling point.
"Industry City's community of artists, makers and entrepreneurs are ideal Shyp customers, and we've been supporting their shipping needs for the past five months," he said.
FilmRise, one of the fastest growing digital media distributors that now calls Industry City home, was ready to move when it found the development. For two years, the company had been working out of the Park Slope brownstone of President Jack Fisher's brother, and the staff had outgrown the quarters.
"We had nine people in the tiny living room and it was difficult just to navigate through those people," said Mr. Fisher.
For Mr. Fisher and his largely Brooklyn-based staff of 20, it made sense for the company to remain in the borough.
"We didn't know what to do," he said. "We considered purchasing a building, but I sensed at the time that we were growing so fast that we had to get a place to work in right now." But ultimately, the hunt for a new home for FilmRise was quick once he laid eyes on the complex.
"When I came here and saw what was going on, the food court, all the development, the events at night, the film screenings on top of rooftops, I said, 'I gotta get into this place,'" said Mr. Fisher. "This is the place to be."
The company ultimately signed a five-year lease with an option to renew for 5,000 square feet of space. Asking rents were $24 per square foot.
"We just really love it. I enjoy coming into work every day," said Mr. Fisher. "First thing I do is I look at this view, hang out, play a little pool and then maybe I'll do some work."
And David Stark Design and Production will be moving to its new home at Industry City in the second half of this year; it currently has office space in Carroll Gardens and production and storage space in Gowanus.
The company, which was also looking for a larger space to meet the needs of its growing business, had searched in Gowanus, Red Hook, Bushwick, Williamsburg, Greenpoint and Long Island City, Queens, at buildings that had more office space for its design team and more storage space for the scale of the scenery built. By choosing Industry City, David Stark could keep its design and production studios geographically close.
"We are thrilled to soon call Industry City home and are proud to join a network of many innovative and forward-thinking companies," said David Stark, the president and creative director of David Stark Design and Production.
New York City capitalizes on Sunset Park 
Not just the private sector has recognized the promise of Sunset Park. New York City, acknowledging there are few neighborhoods in the five boroughs in which it owns exceptional real estate assets and can foster the growth of various industries, is investing in its physical assets and infrastructure in the neighborhood. It is also using money from its coffers to aid the private sector in stimulating job creation.
"This neighborhood is being driven by the fact that we happen to have a bunch of really interesting things going on at one time," said Ms. Glen. "We already own a lot of property here, so we don't need incentives. We're creating our own incentives."
New York City owns a number of underutilized properties near Industry City that are being reinvigorated. The Brooklyn Army Terminal is a four-million-square-foot industrial campus, and city leaders have committed to investing $115 million into the property to help activate 500,000 square feet of unutilized space. City officials estimate this renovation will create 1,700 jobs at this property alone, in addition to 600 construction jobs.
The City also owns Bush Terminal, the million square feet of industrial space that's home to 60 tenants and 600 employees. Portions of the site could be redeveloped to create an additional 200,000 square feet of usable space. And the city-owned Brooklyn Wholesale Meat Market, which is home to 600 employees at 21 companies, has an additional one million square feet of usable space.
In what is arguably most critical to Sunset Park tenants, the city is also making an investment in a fiber optic broadband network in the neighborhood along Third Avenue, which would provide high-speed connectivity to as many as 1,200 businesses.
"We've already spent a lot of money investing in parks and open space and other kinds of infrastructure, so it's become a really interesting hub of innovation," said Ms. Glen. "If we were not doing all this other stuff, [Industry City] wouldn't be as successful as they're going to be. In that sense, it's a great example of a P3," referring to the public-private partnership that has come to fruition.
And because the city owns these assets, they can control the rents.
"[We can say] we want to support certain kinds of industries, so we can keep rents affordable so that those jobs can be created [at our properties]," said Ms. Glen.
| | |
| --- | --- |
| "Industry City is such an important space for New York…Fairly affordable or mid-range commercial space for tech companies, creative companies and manufacturing firms is in such short supply." | |
The future of the neighborhood
As Sunset Park evolves and companies stay and grow there, retail tenants and additional amenities catering to the workforce will all but certainly move into the neighborhood. Already, Bed Bath & Beyond has signed a lease for more than 100,000 square feet at the Salmar Properties-owned Liberty View Industrial Plaza. This is expected to draw thousands of shoppers from all over the borough to a space that today is virtually empty.
"When Bed Bath & Beyond opens, that's going to become a regional power center," said Mr. King, who negotiated the lease. "It's going to have a very beneficial impact."
And eventually, it is likely the residential community will see dramatic changes due to the growth of office and manufacturing tenants.
"What's really interesting about Sunset Park, or this part of Sunset Park, is that it is so close to really vibrant residential neighborhoods," said Ms. Glen. "It's really an opportunity for people to walk to work and create a neighborhood that has all these things happening in it."
But one does not have to live in Sunset Park in order to access its growing number of amenities. It enjoys access to public transportation, including the R, D and N trains and the B63 bus line. Ferry service is expected to resume at the Brooklyn Army Terminal Pier on 58th Street in the neighborhood by 2017.
It is also all but guaranteed that Industry City will continue to evolve. The complex will unveil its long-term redevelopment plan for the property at a Brooklyn Chamber of Commerce event next week.
"For years, Brooklyn was an acceptable lower-cost alternative to Manhattan for both residents and businesses," said Mr. Montvel-Cohen. "Now, it is a preferred destination for many. As long as people and businesses are attracted to the vibe and lifestyle, and there is space available to live and work, the creative economy will expand and drive growth, employment and activities in our neighborhoods as well."
And in 10 years, the neighborhood may not be recognizable.
"There's going to be a very dramatic change," said Mr. King. "This development is going to accelerate change [and] we're in the infancy of this change today. Sunset Park is a rocket ship that has been launched and will be moving into outer space over the next few years."