Under Construction: The Level Hotel
---
---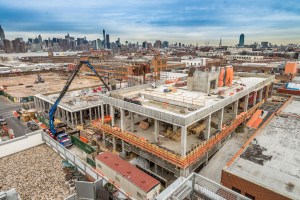 Two things you never see: A luxury hotel that welcomes the public, and a construction job that comes in ahead of schedule.
It looks like The Level Hotel will be able to boast both.
Construction is underway on a new luxury hotel slated to open in Williamsburg next year, another sign that the once-industrial area has been officially added to the list of Brooklyn's chicest neighborhoods.
Located at 55 Wythe Avenue between North 12th and North 13th Streets, The Level Hotel, which itself starts on the 11th floor, will be comprised of 183 rooms (including 25 suites) that offer full or partial views of the East River, and a restaurant on the 22nd floor that will boast 360-degree views of Manhattan and Brooklyn. (The lower 10 floors will consist of office and retail space.)
The hotel is being developed by Zelig Weiss of Wythe Berry LLC, as Commercial Observer previously reported.
Mordy Steinfeld, the director of operations and development at Level Hotel and Riverside Developers, said what stands out most about the hotel is its green open space.
In addition to a 20,000-square-foot rooftop garden, the grounds will feature a pool deck with an egress to a street-level pedestrian plaza that will be open to the public. (This will be a welcome addition to swimmers looking to get some relief from the bobbing humanity at the McCarren Pool.)
The hotel was designed by architects Nick Liberis and Yohay Albo of Albo Liberis, and this is their first high-profile project, according to Mr. Steinfeld. Interiors were designed by Toronto-based Munge Leung and the outdoor space was designed by Gunn Landscape Architecture.
The hotel is an eight-minute walk to the nearest L and G subway lines, but Mr. Steinfeld said that distance won't keep the kind of guests he plans to host from coming to Level.
"We have two targets in mind: The first is people who come to the neighborhood for family, like residents' parents, or people who are looking to move in," said Mr. Steinfeld. "The other is tourists who don't want to see Manhattan again, and want to check out the art and dining scene in Williamsburg."
Neighbors of note include Brooklyn Brewery, Whole Foods, Brooklyn Bowl and the Wythe Hotel. Mr. Steinfeld acknowledged the area has transformed pretty dramatically in the last couple of years—a look at Googlemaps shows a picture from 2013 when the area looked bombed out and coated with graffiti.
The hotel has already completed construction of the 20,000 square feet of retail space at its base, and depending on how the space is divided can accommodate between six and nine retailers. There will also be 40,000 square feet of office space available.
In September, the hotel set a record for the largest continuous concrete pour in Brooklyn, CO reported.
"If we keep at this pace, we could open at the end of this year," said Mr. Steinfeld, rather than in early 2016.
The property, which is a block from McCarren Park, was originally two parcels. Wythe Berry LLC closed on the first parcel (consisting of 20,000 square feet of land) for $10 million last May, and the second parcel (of 30,000 square feet of land) for $16.5 million last April, according to a spokeswoman for the developer.