Stephen Winter: Related's Secret Weapon For Leasing Hudson Yards
---
---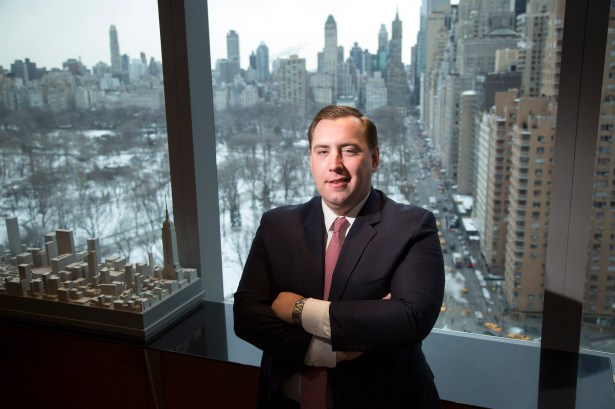 Stephen Winter is unabashedly, unequivocally, obsessed with real estate.
As a vice president of commercial leasing at Related Companies, Mr. Winter has spent countless hours helping to fill all of the office space at Hudson Yards, the 17-million-square-foot, 28-acre mixed-used development emerging on the West Side of Manhattan. By his own count, he dines with potential clients and those in the industry eight times a week to fuel business. And on weekends, Mr. Winter scouts out buildings as "market intelligence" to better understand who the tenants are and what they need out of their building.
"What do you do when you're not working on real estate projects?" Commercial Observer asked, expecting him to regale us with stories of fishing expeditions or time spent on the links.
"I'm thinking about [real estate]," he said with a laugh. "I really don't view this as work, I know it sounds so cliché … my life really revolves around work and real estate, and that's how I like it."
"You have other hobbies than just real estate," Related's spokeswoman prompted.
"The only thing I have to do when I'm not working is to spend time with Kristin, because I have to do some of that," he said, referring to his wife, a nurse at New York-Presbyterian Hospital whom he married last May. "I'm not a big hobby guy."
Mr. Winter's single-minded devotion to the field has propelled him to remarkable success at only 28 years old. In 2011, CBRE named him Rookie of the Year, given to the top-producing associates in its Midtown office. The following year, the Real Estate Board of New York bestowed the honor of "Most Promising Commercial Salesperson of the Year" upon him. And in 2013, he was featured in this publication's 30 Under 30, recognizing him as a young real estate professional who has already demonstrated tremendous potential. Today at Related, he's responsible for filling 6 million square feet of office space at Hudson Yards, a task that requires tireless networking, business development and mining for tenants.
"Steve's passion for the real estate business, deep market knowledge, outstanding work ethic and drive, combined with his focus on delivering exceptional client results, set him apart from his peers," said Kyle Schoppmann, an executive managing director at CBRE who hired Mr. Winter in Dec. 2007. "Steve's passion for this business was evident from his first interview with CBRE—this passion helped fuel his early success and has made him a rising star to watch in New York real estate."
The son of a nurse and a police officer, Mr. Winter grew up in blue-collar Marine Park, Brooklyn. After attending public school in his younger years, he went to Xavier, the respected Jesuit high school in Chelsea, from which he graduated in 2004.
At that point, real estate was not on his radar.
"Where I come from, successful people become doctors and lawyers. I didn't know much about real estate, frankly," he said.
In 2005, Mr. Winter was preparing to be a lawyer when he landed an internship at the Brooklyn District Attorney's office in the summer before his sophomore year of college. He said an "incredible mentor" there changed the course of his life, ironically encouraging him away from the law.
"I went to [my mentor] and said 'I want to do this. I'll come back here after law school.' And he said, 'Steve, go make money. Crime is always going to be here,'" he recounted. Mr. Winter then reached out to a friend who was a firefighter-turned-real estate developer, who encouraged him to entertain opportunities in the field. After an internship the following summer at Massey Knakal, he was hooked.
Mr. Winter then graduated first in his class from Sacred Heart University in Fairfield, Conn. (though he was too humble to share that notable detail during an interview with Commercial Observer) and after a ten-round interview process, he was one of five recent graduates in 2008 selected for CBRE's prestigious Wheel Program. The rotational, 14-month mentorship program is designed to give young brokerage professionals a foundation in the commercial real estate industry. Each year, five graduates are selected from an applicant pool of over 400.
During Mr. Winter's five years at CBRE, he zeroed in on his passion for brokerage and was able to work alongside some of the firm's most respected professionals, including Mary Ann Tighe and Bob Alexander. During his tenure, he helped secure more than one million square feet of space.
"[Steve] quickly rose over the course of four or five years into the No. 1 up-and-comer that CBRE had," said Mr. Alexander, chairman of the firm's tri-state region.
While working with Mr. Alexander on the Hudson Yards project, Mr. Winter was introduced to Related. The company and Oxford Properties Group are represented by CBRE, the exclusive leasing agent for Hudson Yards.
"[Steve] was regularly exposed to folks at Related [while working on leasing Hudson Yards] and this became a marriage made in heaven for them," Mr. Alexander said. Related quickly took note of Mr. Winter's real estate acumen.
"The first year that he spent working with me on the Related project served as a kind of interview process for them to see what he was capable of doing," Mr. Alexander said.
Related is known as a company that prizes MBAs from Wharton and years spent in grueling private-equity shops. Mr. Winter had neither. But it was inconsequential. Related saw in him a rare talent that could be used to propel Hudson Yards forward and eventually, actively recruited him.
Mr. Winter then found himself at a career crossroads.
"I absolutely love what I do [and] I love brokerage. A lot of people don't love brokerage. If you asked me, I was never going to leave [CBRE]," he said. "I don't just say this. This is the only place and the only opportunity I would have left for."
Mr. Alexander ultimately counseled Mr. Winter to leave CBRE and take the job.
"It is a unique opportunity for an individual of his age to make that kind of jump to such a high-powered developer. It speaks to his work ethic." Mr. Winter started at Related in November 2013.
To date, Related has committed office tenants to over three million square feet of space into new construction at Hudson Yards.
"Three million square feet of commitments is unprecedented. You can ask anybody," said Mr. Alexander. "That's Stephen Ross and the whole Related team, but that's unprecedented work, and Stephen is a part of that."
The mega-project, pegged as the city's new Rockefeller Center, has seen commendable progress in the past year. All properties on the Eastern Rail Yards will be under construction by the end of 2015.
"[Hudson Yards] has arrived. It's not a dream," said Mr. Winter. "It's not some grand vision that may or may not happen. This is happening."
He also emphasized that the sales pitch to lure companies west to Hudson Yards has become easier with time.
"When I first joined the project and was on the CB side, I used to constantly harass people 'you got to see the project, you got to see the project,'" he recalled. "It was tough. Now, there are so many inbound calls."
Then, Mr. Winter gave Commercial Observer the sales pitch on why Hudson Yards will be the new heart of New York. The number 7 train comes right to the development's front door, and because it runs east to west, it picks up all the north to south lines along the way. Hudson Yards is three train stops from Grand Central and has the proximity to the Lincoln Tunnel and the West Side Highway (and, as he pointed out, the heliport, for a select few). Ferry access is nearby on West 39th Street and Penn Station (the busiest transit hub in the country!) is blocks away. The Upper East Side is out of vogue. Now everyone wants to live in Chelsea, Mr. Winter explained, making the High Line a means of transportation for people to get to work.
"Think about the work-life integration aspect of it now," said Mr. Winter. "You do not have to leave Hudson Yards ever. You have tons of food and beverage [and] shopping. You have a health club, hotel, residences. You have everything you need, and it's the best of everything."
The pitch has clearly been effective. Though Mr. Winter and Related decline to comment on specific deals in the pipeline, Mr. Winter was optimistic that the 1.7 million-square-foot 10 Hudson Yards will be entirely leased this year. Based on current activity, he thinks the 2.6 million-square-foot 30 Hudson Yards may be completely leased as well.
Perhaps Stephen Ross, the chairman of Related Companies, said it of Mr. Winter most succinctly: "He is tenacious as hell."
It's evident that Mr. Winter's dedication is as strong as ever. Promptly after accepting Related's offer, Mr. Winter moved to Broadway and 63rd Street. "You just gotta live in it, right?" he asked. "I constantly want to be here. Early, late, all the time."
When asked what advice he would impart to those starting out in the industry, Mr. Winter stressed that "nothing replaces hard work."
"Steve Ross once said, 'I love PhDs: poor, hungry and driven people.' Those are the people that make it," he said. "You gotta be hungry. You gotta work hard."