So They Say: Steven Spinola Talks Unethical Brokers, Taxes and Apartment Shortage
---
---
John Banks, the president-elect of the Real Estate Board of New York, has big shoes to fill when he begins his term on March 2. His predecessor, Steven Spinola, 65, will be retiring from his position at the end of 2015, marking 30 successful years in office.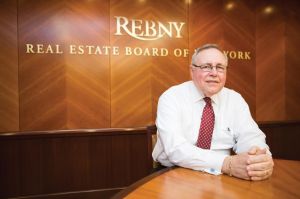 Mr. Spinola began his term during Ed Koch's mayoral administration, though he worked with many mayors, and saw New York City transform through the years, as crime plummeted and international interest in Gotham grew. From the rebirth of Times Square, to the outer boroughs becoming more family-oriented than ever before, Mr. Spinola is often credited with guiding REBNY through its most difficult times.
Mortgage Observer looks back at some memorable quotes from Mr. Spinola's tenure.
"This is not a Wall Street town. This is a real estate town. We are the vehicle for providing the money for the services that the city needs."
—Interview with Commercial Observer (January 2015)
On raising taxes: "If we're actually reforming the system and it looks like it's got the potential to be a permanent solution that will give some confidence to the people who own businesses here in the State of New York, then it's something that we're prepared to look at."
—Interview with The New York Times (December 2011)
"Stories of unethical brokers are disappointing—disappointing to the public, disappointing to me and most importantly disappointing to my members, who have to work even harder to clean up the reputation of their industry. New York City real estate agents know the false stereotypes they must overcome, but if the department's dwindling list of complaints is any indication, they're doing a good job of it."
—In a letter to The New York Times editor (February 2007)
"The streets of Manhattan are working as a big huge mall, with 3 million people walking through it every day … It doesn't happen anywhere else."
—Statement for The New York Daily News (April 2006)
"We still have a fundamental shortage, especially in the outer boroughs. To keep pace with demand, we need around 20,000 to 25,000 new apartments each year … But the fact that the numbers are up in Manhattan is a terrific sign."
—Interview with The New York Post (November 1999)
"The Real Estate Board is not a deal-oriented entity. It's there to service the real-estate industry of Manhattan—through educational programs and through analysis of current markets and current issues that affect the real-estate industry … I'm going to have to spend the first couple of months on the job understanding that better before I come up with any brilliant ideas of my own. But I think the education and research services are critical and will probably have to expand in the years ahead."
—Interview with The New York Times (May 1986)