M&T Finances Murray Hill Acquisition and Condo Conversion
---
---
M&T Bank provided $66.3 million in financing to Gaia Real Estate for the purchase and planned conversion of a 22-story apartment building in Murray Hill to condominiums, Mortgage Observer has first learned.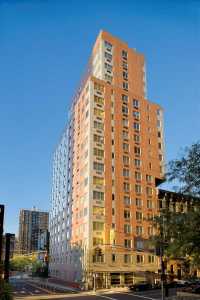 The New York-based real estate investment firm bought the 97-unit property at 308 East 38th Street from UBS in late January for $75 million, a person familiar with the deal said on the condition of anonymity.
UBS had acquired the building, known as The Montrose, from BlackRock in 2006 for $59.1 million, city records show. The 117000-square foot rental property was built in 2002.
Construction on the conversion to condos is expected to cost the developer an additional $15 million, bringing the total project cost to $90 million, according to the person in the know.
The first phase of the conversion will entail upgrades to the building's amenities, including a renovated lobby and a new roof deck, fitness center and tenants' lounge. The second phase will involve upgrades to the building's 97 units.
The three-year bridge loan to help fund the project comes with a one-year extension option, said M&T Vice President and Team Leader George Doerre, who led the transaction out of the bank's New York office.
Gaia's co-founder and managing partner, Danny Fishman, referred to M&T as a "great partner" in the deal. He declined to comment on the acquisition and development costs.
"We believe a lot in the area and the building," Mr. Fishman told MO. "We also believe in value for money. The finished building will be reasonably priced on condominiums and reasonably priced on the common charges."