Le Opening: Le District is Opening in a Month, Part of Downtown's Culinary Revolution
---
---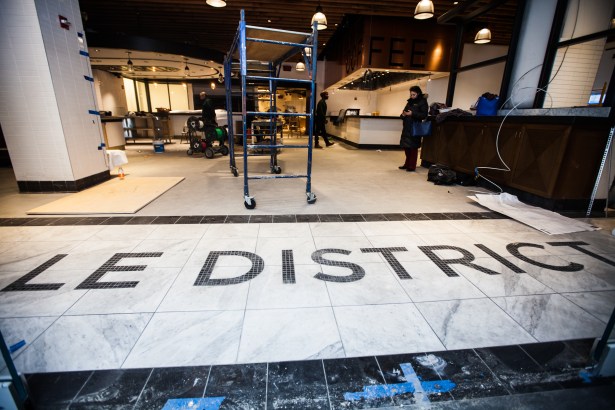 Hear ye, hear ye, Downtown office workers: Plan on loosening the notches on your belts in the coming months, because by the end of March (or the beginning of April), Downtown Manhattan's dining options are about to go into the stratosphere.
The 30,000-square-foot French-themed market and 520-seat dining zone, Le District, will be opening at the newly renovated Brookfield (BN) Place in Battery Park City. It will also include a 25-seat fine dining chef's table concept, set to open in May.
Indeed, Lower Manhattan is not the dining wasteland it once was. The major office and retail developments seem compelled to add some culinary twists. And Brookfield Place is leading the pack, providing 100,000 square feet of food-related options, with more on the way (including the aforementioned Le District).
"We [will] have [everything from] counter dining to take-away to casual service dining to a traditional brasserie with a beautiful bar to the chef's culinary heightened experience," said restaurateur Peter Poulakakos of HPH Hospitality Group, Le District's owner.
Likened by some to Eataly, but with a French theme, the ICRAVE-designed Le District is just the latest large-scale dining project at Brookfield Place. Last summer, Hudson Eats opened a 35,000-square-foot food court with 14 vendors—including Blue Ribbon Sushi, Mighty Quinn's, Umami Burger, Black Seed and Tartinery—and 600 shared seats. And that's in addition to the following restaurants: Parm (5,000 square feet), Amada (7,500 square feet), Le Atelier de Joël Robuchon (10,000 square feet) and P.J. Clarke's (9,000 square feet). Plus there are two more spaces available for restaurants, according to a spokesman for Brookfield Office Properties, the owner of Brookfield Place.
"The idea [behind Le District] was when you stroll in the middle of our market, you have the feeling you could be in a street of Paris or a small village in France," said Laurent Vasseur, the general manager of HPH. (The name "Le District" is a translation of "arrondissements." Mr. Vasseur also said it was "a name that will be easy to remember and pronounce.")
The market is being separated into four parts to "represent the Fourth Arrondissement of Paris," said Mr. Vasseur, "which is known as a cultural neighborhood of Paris which includes Bazar de l'Hôtel de Ville [a department store], the Centre Georges Pompidou, the Hôtel de Ville, Le Marais and the Musée de la Magie [a museum of magic]." Unlike Hudson Eats, Le District will only have one outside vendor, La Cure Gourmande, a cookie and candy store.
Are Hudson Eats and Le District competing with each other?
"Hudson Eats is a food court. We're a food destination—very different from a food court," said Mr. Poulakakos. "It's quite different from a food court."
The French-inspired culinary destination's four distinct sections will be Café District, Market District, Garden District and Restaurant District.
Retail broker Robin Abrams of Lansco said there are enough customers Downtown to go around for Hudson Eats and Le District.
"I think there is room for both of these options, as well as the equally interesting food court at the World Trade Center," Ms. Abrams said. "There is a huge population that both projects will draw from. Brookfield Place has views of the esplanade and the harbor. The World Trade Center has views of the Memorial and the Calatrava transportation hub. [There are] really exciting times ahead."
And how does it compare to Eataly?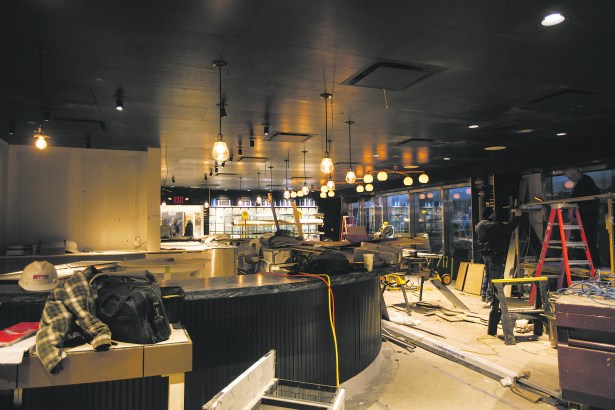 "Ours is more of an urban experience," Mr. Poulakakos said. "It's laid out differently… it's more of a Parisian-style market than what Eataly is doing."
No, it's not quite the outdoor experience you'd get at the Bastille Market, but 7,000 square feet of its 30,000 square feet of space is exterior. "Le District is more like Le Grand Épicerie or Bon Marche in concept than, say, the weekly open-air produce markets," said a spokesperson for Le District, "although Le District will have a produce market as well."
Meanwhile, an actual Eataly is hitting the neighborhood, too.
Chef and restaurateur Mario Batali's Eataly and other food tenants will be opening nearby at Westfield World Trade Center, a 365,000-square-foot retail shopping complex at 4 World Trade Center with 150 stores and restaurants. Food-related tenants will include Épicerie Boulud, Lore Wine & Spirits, La Colombe, Beer Table, Noble Tree Coffee, FIKA, Nunu Chocolates, Joe Coffee and Minamoto Kitchoan, according to Westfield. Also offering food for sale is the Howard Hughes Corporation's Fulton Stall Market, which opened earlier this month at 207A Front Street.
"We are particularly thrilled about Eataly at Westfield World Trade Center," said Nicola Farinetti, the chief executive officer of Eataly, in a December press release about Westfield World Trade Center. "We weren't really planning on opening a second New York store—however, when Westfield showed us the space, we weren't able to say no."
Having ample dining options was important at Brookfield Place.
"Food is a very important anchor for fashion," said Edward Hogan, the national director of retail leasing at Brookfield Office Properties. "New Yorkers love great food. We really thought about all the great eateries everyone loves and brought them all together to create a place for the neighborhood to come together."
Brookfield had focused on drawing high-profile food vendors to its 400,000-square-foot complex, which received a $250 million renovation. There are 80 shops in Brookfield Place.
"New Yorkers seek the best of the best, especially when it comes to food," Mr. Hogan said. "Thus to create a true neighborhood designation, we had to find a collection of eateries that would be a draw."
Mr. Hogan told the New York Post last April that all of the food operations will "generate over $120 million in sales in the first year." Brookfield declined to comment more on the figures.
Another broker said there is need to worry that Downtown will be oversaturated in dining options.
"You need to comprehend the number of people that are living and working in this area," said retail broker James Famularo of Eastern Consolidated. "After these projects are complete tourism should increase dramatically!"