Icon Realty Affiliate Nabs EV Apartment Building for $24.8M
---
---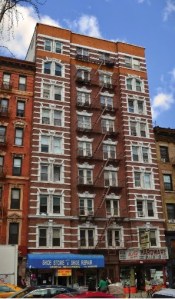 An affiliate of Icon Realty Management has purchased a corporation that owns Ludmilla Lozowy's 10-story apartment building in the East Village for $24.8 million, Cushman & Wakefield announced, in an all-cash deal that closed on Jan. 29.
C&W's James Nelson and Matt Nickerson marketed the property at 57 Second Avenue between East 3rd and East 4th Streets beginning in November of last year with a $30 million asking price, EV Grieve previously reported. 
The nine-story building contains 33 residential units and two ground-floor retail units.
"This transaction resulted in a true win-win for both the buyer and seller," Mr. Nelson said in prepared remarks. "By selling the corporation, the seller netted significantly more after-tax proceeds than a fee-simple sale while the buyer was able to obtain an excellent long-term investment at a low basis."
Mr. Nelson said via a spokeswoman that "the buyer's intentions is to upgrade the vacant residential units, improve common areas and most likely reposition the retail."
Aaron Jungreis and David Berger of Rosewood Realty represented the buyer.
"The sellers wanted someone who could close in three weeks and the buyers performed like the true champs that they are," Mr. Jungreis said via a spokeswoman.