How a Teacher's Pension Fund Became a Real Estate Giant
---
---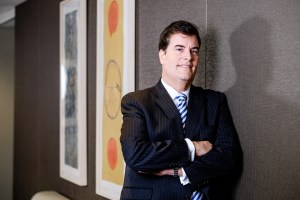 One of New York City's most prominent real estate empires traces its origins to the financial well-being of professors rather than to a family patriarch. TIAA-CREF, which stands for Teachers Insurance and Annuity Association College Retirement Equities Fund, entered the city's real estate market in 1944 with the purchase of a Montgomery Ward store in Flushing, Queens, and a six-story office building at 3 East 44th Street.
Around 40 years later, the financial services firm financed the construction and operations of the original 7 World Trade Center and owned the Seagram Building for a dozen years, Philip McAndrews, its chief investment officer of global real estate, told Commercial Observer.
Nowadays, the real estate division of the company founded by Andrew Carnegie in 1918 is expanding its presence in New York City and beyond.
Last week, The New York Post reported that TIAA-CREF was in contract to buy 837 Washington Street for $200 million, a record price in the Meatpacking District. In 2014, the company closed on sizable office and retail acquisitions and tenant leasing in New York City. It also inaugurated an international joint venture with European investment manager Henderson Global Investors as the majority partner in a $22.6 billion portfolio.
But regardless of the big-ticket transactions, the firm, which specializes in retirement investment plans for individuals in the academic, research, medical and cultural industries, maintains a tight-lipped approach to its individual purchases—and marks a clear divide between its clients' investment funds and its real estate arm. TIAA-CREF's 164 real estate professionals in seven U.S. offices approach their work with an understanding that their firm is different from others, Mr. McAndrews said.
"We know our mission," said the 53-year-old Mr. McAndrews, who has been with the firm for 24 years. "It's always on our minds that we have people's pension money on our hands. There's a level of care here that brings us to a standard that you might not find in other financial institutions."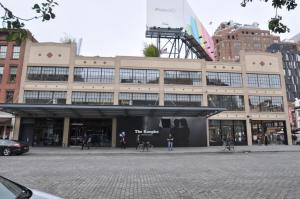 Despite its cautionary approach, the company's real estate holdings have grown over the past few years in ways few other institutions can match. The firm acquired 40 U.S. properties and closed or signed 29 dispositions last year. The Henderson deal, which closed in early 2014, helped raise TIAA-CREF's holdings to $79 billion worth of assets under management, according to company officials. By comparison, Vornado Realty Trust lists just over $21 billion in assets in its latest quarterly reports, while SL Green Realty Corp. in its last quarterly report claimed $17.2 billion in assets.
In addition to its expanding ownership portfolio, the company carries a mortgage platform of over $15 billion, with plans to expand it by $3.5 billion to $4 billion in 2015 and to embark on an approximately $500 million floating-rate commercial real estate lending program for owners and developers.
Such figures can make individual transactions like the company's recent acquisitions of 21 Penn Plaza and a Chelsea retail condo difficult to recall, Mr. McAndrews said.
"That's a large platform and a lot of assets under management, which is why, if you ask me about an individual asset, I'll look at a cheat sheet," he said. The company doesn't announce the amount of money it spends on individual purchases, even though "that's the sexy side of real estate," he added. "The reason that we don't do that is that it's so subjective and interpretive in the newspaper. We don't really want to leave our acquisition open to interpretation just based on the purchase price."
The company serves 5 million individual investors, including 3.7 million professionals in institutional retirement plans. It might seem that TIAA-CREF funds investments on behalf of investors in stocks offered by companies like Boston Properties and Vornado Realty Trust, posing a potential conflict with the TIAA-CREF's real estate activities.
But Mr. McAndrews' team works under strict U.S. Securities and Exchange Commission guidelines that separate TIAA-CREF's funds and its real estate division through information barriers, which means that TIAA-CREF's real estate team doesn't work directly with the investment managers making decisions about the pension funds' investments, he noted.
Yet the pension funds do help provide capital for the real estate team, just as they provide for comfortable retirements. TIAA-CREF's approach has changed the academic business model, said Matthew Hamill, the senior vice president of the National Association of College and University Business Officers.
"It takes pressure off colleges and universities in terms of compensation," he said. "Overall, it allows colleges to handle their cost structures in different ways than perhaps any other industry."
TIAA-CREF is far from the only pension fund that's active in real estate. The California Public Employee Retirement System (Calpers), for instance, is investing $7 billion in commercial real estate, The Wall Street Journal recently reported. And the California State Teachers Retirement System (CalSTRS) recently partnered with MHP Real Estate Services to buy 180 Maiden Lane for $470 million through the pension's subsidiary, Clarion Partners.
Even so, the real estate plays of those and other pension funds are dwarfed by TIAA-CREF's portfolio. The deal with Henderson will certainly enhance the firm's global real estate activities. The two firms created a real estate investment management company known as TIAA Henderson Real Estate. TIAA-CREF holds a 60 percent stake, and Henderson took the remaining 40 percent. In a separate transaction, it also handed over its $2.6 billion North American real estate business to TIAA-CREF. The U.K.-based investment firm received £114.2 million, or $173.5 million, as part of the agreement, according to a Henderson release.
And the joint venture has already started picking up assets like a Central London office development and a 50 percent stake in a nearly completed commercial tower in Melbourne, Australia. The arrangement "gives us the Rolodex [to expand internationally]," Mr. McAndrews said.
Much closer to its New York City headquarters at 730 Third Avenue, TIAA-CREF also recently closed on other high-profile purchases. The company acquired 21 Penn Plaza on the corner of Ninth Avenue and West 31st Street for $244 million in November, according to city property records, buying the 16-story, 378,547-square-foot Class B property from Savanna and the Feil Organization.
The same day TIAA-CREF announced that purchase, the company disclosed that it and Norges Bank Investment Management, the Norwegian government's pension fund, had closed on the acquisition of the leased fee position of 2 Herald Square. The partners picked up the asset that has an alternate address of 1328 Broadway from SL Green for $365 million, according to property records.
TIAA-CREF makes for an attractive partner and investor on behalf of third parties, said Michael Stoler, a managing director at Madison Realty Capital and the president of New York Real Estate TV.
"Anybody would want to do business with them because they have big pockets," Mr. Stoler said. "They have the money themselves as TIAA-CREF, but over the last few years, they've been working with more partners. They've been a very active purchaser in the equity position."
The company has also been active lately in local retail properties. Early last year, TIAA-CREF acquired a minority stake in the Meatpacking District building at 401 West 14th Street that houses an Apple store. In December, it closed on the $42 million purchase of an 18,280-square-foot retail condo at 636 Avenue of the Americas in Chelsea that's occupied by a CVS pharmacy, as CO first reported. The company is embracing additional retail assets besides the type that it had previously been known for, Mr. McAndrews said.
"TIAA-CREF has been active in the retail sector, particularly the suburban mall, since the 1950s," he said. "But we like the urban play as well. We are working on some things that you will talk about within the next six months."
A once-dormant property at 475 Fifth Avenue is now showing up in headlines for the new tenants flocking to the space. TIAA-CREF scooped up the building that's across the street from Bryant Park for $144 million in 2011, after it had sat almost empty for years amid disputes over its ownership. After the company implemented capital improvements, it signed over 99,000 square feet of new office leases beginning in June, with Women's Wear Daily and Variety publisher Penske Media Corporation grabbing 56,000 square feet over four floors in a deal this January.
As part of the renovations, the landlord relocated the office entrance off Fifth Avenue to open up an 18,715-square-foot retail space, which a Cushman & Wakefield team of Joanne Podell, Gene Spiegelman, Brandon Singer and Michael O'Neill has been marketing.
"We have a completed, executed deal which I can't talk about, but we have a remaining open space of 4,500 square feet," Ms. Podell told CO, praising TIAA-CREF's move to enhance the retail space onsite. "They're very thoughtful. They don't make fast decisions. I like that because, at the end of the day, I want the right deal."
Meanwhile, the company is executing a similar revitalization in Midtown East at 685 Third Avenue between East 43rd and East 44th Streets. TIAA-CREF picked up the 646,422-square-foot property from Pfizer for $190 million in 2010, according to property records, and the pharmaceutical giant subsequently vacated the building.
Tenants have now leased 70 percent of the building's space, Mr. McAndrews said. Crain Communications, the publisher of Crain's New York Business, occupies 57,000 square feet at the property, where a Luke's Lobster location opened on the ground floor this summer. Business consulting company Navigant announced a 10-year, 72,060-square-foot lease in July, while a non-profit United Nations partner organization named the Foundation for the Global Compact took the full 27,235-square-foot 12th floor at the building in October.
TIAA-CREF has made significant improvements at the site, Mr. McAndrews said.
"We built a really nice pocket park with a water feature and an organic wall," he noted. "The tenants love it and the neighbors love it as well."
TIAA-CREF's offices sit just three blocks north, with the company's logo and its motto, "financial services for the greater good," marking the landscape. And while the company has a global presence and a large office in Charlotte, N.C., its executives take its roots in New York City seriously. As the company's real estate arm expands its portfolio on behalf of TIAA-CREF's own funds or those of its third-party investors, it won't be turning away from the city any time soon.
"It's a long tenure here," Mr. McAndrews said. "We're fluent in New York. It's our headquarters. It's not only a place that we're interested in from an investment standpoint, but from a corporate point of view as well."