City Seeks Developer for Seven-Acre Parcel Near JFK Airport
---
---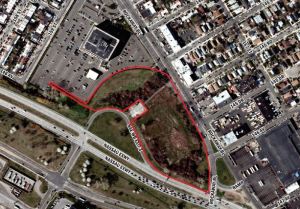 The city is looking for a developer to purchase a fee interest or a long-term lease and then redevelop a seven-acre parcel along the south side of Rockaway Boulevard near John F. Kennedy International Airport.
"This is an ideal location for businesses that benefit from the proximity to JFK International Airport," according to the New York City Economic Development Corp.'s recent request for expressions of interest, or RFEI.
The city-owned irregularly-shaped vacant lot is bound to the north by Rockaway Boulevard, to the south by Nassau Expressway and to the west by the Federal Aviation Administration office building, in Springfield Gardens, Queens. The area is home to one of the air cargo industry's largest concentrations of customs brokers and freight forwarders, other airport-related industrial facilities, residences and retail uses.
The request indicates that the site could be ideal for a "modern campus plan with industrial and/or commercial programming… The project also provides a unique opportunity to define the JFK Industrial Business Zone and complement the airport's growth." There are height restrictions at the site.
The city acquired the land decades ago as part of proceedings related to the airport.
Submissions are due by May 4.