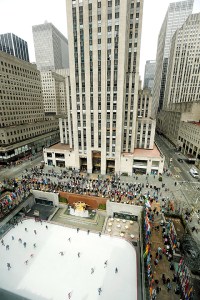 "Upgrading NYC" is a series sponsored by AT&T in which we interview owners of and tenants in Manhattan commercial buildings that have recently upgraded their wireless connectivity. This week we look at Rockefeller Center."
In 1996, a partnership including Tishman Speyer paid $1.2 billion to purchase Rockefeller Center from Mitsubishi. The new landlord renovated the historic buildings' limestone facades and brought in more high-end retail, pushing for higher rents. The moves boosted the landmark complex's office occupancy rate from 86 percent in 1996 to 98 percent today, according to Tishman Speyer's website. In 2000, Tishman Speyer bought out its partners for $1.85 billion, an indication of how the property's value had risen.
In its next evolution, the buildings will solve a common problem in the digital age: cell phone service that is spotty beyond the 10th floor.
AT&T is installing a distributed antennae system (DAS) that will boost both voice and data service to tenants. The company is adding equipment throughout 14 of the 19 different buildings in the complex. The system spans a total of 493 floors and around 5,000 antennae, said Jim Hormann, vice president for network planning and engineering at AT&T.
Antennas are connected through cable to a head-end room that connects the signal to various networks. At the iconic 30 Rockefeller Center tower, AT&T has opened two head-end rooms on the 11th floor and 55th floor.
Work is expected to be completed in 2015. The company works on off-hours to not disrupt tenants. Installing the system includes putting fiber between floors and connecting the system to power sources, work that is sometimes difficult in structures that go as far back as the 1930s.
"Finding space and power was quite challenging," said Mr. Hormann.
AT&T began the distributed antennae system effort about five years ago and approached Tishman Speyer about installing the system at Rockefeller Center, which the landlord agreed to.
The activity in Rockefeller Center is part of a larger trend towards enhancing wireless service throughout the city, as tenants expect more reliable cell phone and Internet service. Other landmarks including the Empire State Building and JFK Airport are also in the midst of installing new distributed antennae systems. Sports stadiums have also been a popular target for distributed antennae systems. A separate system has also been installed in dozens of subway systems, including the one below Rockefeller Center.
Global distributed antennae system revenue grew by 11 percent to $1.1 billion in the first half of 2014, according to a report by research firm Infonetics.