Trio of Developers Close on $24.1M Murray Hill Purchase
---
---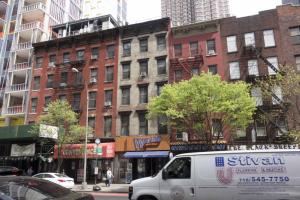 Charles Blaichman's CB Developers, Ironstate Development and SK Development Group have purchased three adjacent walkup buildings in Murray Hill for $24.1 million, Commercial Observer has learned. The sale is not yet recorded with the city.
J.T. Tai & Company, a Chinese nonprofit foundation, sold the rental buildings at 587-591 Third Avenue between East 38th and East 39th Streets after more than 30 years of ownership. The trio of developers will combine them with the 18-story, 91-unit residential site they are developing next door at 593-597 Third Avenue, a source with knowledge of the deal said.
The 60,000-square-foot site at 587-591 Third Avenue went into contract in May, The Real Deal reported last September. Bill Hogan, the manager for the foundation, said the deal, brokered by Joanna Cutler of Joanna Cutler Real Estate, closed on Dec. 16.
None of the other parties could be reached or responded to a request for comment.