Three Women Lead Successful New Development Projects in New York City
---
---
It is rare to see women running real estate development projects, but there are three in New York City that have received significant attention in recent years for smart, distinguished projects that have generated strong sales. One came from a real estate dynasty, another pivoted from wealth management into development and another left a career in property management to start renewing property in her own vision.  
Veronica Mainetti loves the building she works on. She gets especially excited about preserving the existing materials in historic projects. She told The New York Observer that advisers say she can't let her love of the structures get ahead of making commercially successful projects. "People tell me, 'You have so much passion. You can't fall in love with the brick. That is the first rule,' " she said, but she doesn't think her passion is really an issue. "Our investors," she noted, "are pretty happy, but I don't know any other way."
Ms. Mainetti is head of Sorgente Group of America, the American arm of the Italian real estate company based in Soho at 594 Broadway, which her family has run for generations. The 36-year-old has made a name for herself by developing environmentally-conscious, preservation-oriented buildings.
These days, the project earning Ms. Mainetti attention is her work at Tribeca's 60 White Street, a cast-iron building constructed in 1869 that she is restoring with a zeal for green practices and vintage detail. For example, she's sourcing materials nearby: Marble from Vermont and reclaimed wood from the Hudson Valley.
Sorgente Group acquired 34 Greene Street in 2007. She launched sales at the seven-unit Soho condo building in January 2010 when the economy was still on shaky footing and people were reluctant to invest.
"Actually, she took a big chance," Jeffrey Gural, the chairman of Newmark Grubb Knight Frank, said of the timing of the purchase. "I give her credit because she held on to get her prices." Mr. Gural first met Ms. Mainetti when her group acquired its first stake in the Flatiron Building. It attained a roughly 50 percent stake in 2009.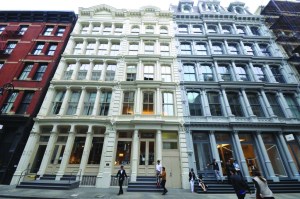 She considers 34 Greene Street a stepping-stone to 60 White Street. "Greene Street was not as sustainable or energy efficient and since then I've done a lot of homework," she said. Sixty White is using Passive House windows that are nearly airtight, decreasing the heating and cooling costs dramatically.
Sorgente Asset Management, established in the U.S. in 2010, was the first to offer Italian investors a fund dedicated to trophy real estate, according to reports. It focuses primarily on investing in landmark buildings in Manhattan, including the Chrysler Building and the Flatiron Building.
She recently secured a $22.1 million refinancing for L.A.'s Fine Arts building, to be used for restorations, and secured a 15-year, 44,500-square-foot lease with New York coworking giant, WeWork, according to Mortgage Observer. As she previously told Commercial Observer, "That's our strategy. We believe these kinds of buildings that have architectural value and historical value do better."
Toby Moskovits
Toby Moskovits, the chief executive officer of Heritage Equity Partners, got into the real estate in 2008, when developers she knew couldn't get financing from banks. Ms. Moskovits worked as a wealth manager, helping high net worth individuals interested in new kinds of investments and saw that Williamsburg was stable enough to encourage those individuals to invest there.
That insight became her new business, which now has a lot of deals in the pipeline. Her riskiest deal is probably 25 Kent Avenue, the first speculative ground-up commercial property to go up in Brooklyn since the 1920s. Its design leans heavily toward Brooklyn's burgeoning tech economy, designed from the ground up to incorporate all the infrastructure and amenities that high-tech firms prefer. She secured a $70 million loan for the project in December, which she entered into with the Rabsky Group, according to Crain's New York Business.
She established herself in the industry during the economic downturn by moving a series of residential deals, as Mortgage Observer previously reported. In other words, she moved for the first time into real estate development when the rest of the country was running away from real estate development.
And now that every other New York developer is going after residential sites, she's not.
In 2012, she bought 96 Wythe Avenue, right next to Williamsburg's Wythe Hotel, which put Brooklyn on the map as a place for out-of-towners. In June, she closed a $23.5 million deal for a former parking garage she's turning into 172 apartment units. She's also acquired the Cooper Tank & Welding at 215 Moore Street for $28.3 million. She intends to turn the 2.3-acre site into 170,000 square feet of creative and tech office space, as CO previously reported.
"The genius of Toby is the ability to envision what a property and neighborhood can be in five or 10 years," Seth Peyser with Epic Commercial Realty told CO at the time of the deal.
With Brooklyn on the rise, Ms. Moskovits is making a lot of bets on the borough.
Ms. Mokwowitz declined to comment.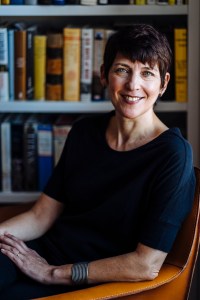 Abby Hamlin
Abby Hamlin wants to push the city's thinking about what buildings can do. "I like to distinguish myself as a design-driven developer," she said. "I've set up my business with the goal of creating projects that are distinguished architecturally and engage the urban environment in a responsible way."
Ms. Hamlin creates beautiful spaces that solve community problems. She built 160 Schermerhorn in Downtown Brooklyn, which includes both low-income housing and an arts center. If the law would let her, she'd like to get into building residential microunits.
In 1998, Ms. Hamlin's Midtown East-based Hamlin Ventures' first project was five single-family townhomes, the first such construction in Tribeca in 150 years. She met a need for young families that wanted larger spaces to stay in the city.
Today, she's in the middle of another major residential project, converting Nolita's St. Patrick's Old Cathedral and several adjacent buildings into seven condominiums and two townhomes, all marketed together as 34 Prince Street, which she acquired last year for $30.7 million. She's the co-developer on the 120,000-square-foot project with Time Equities.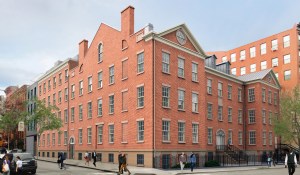 Francis Greenberger, the CEO of Time Equities, said that when they work together, he tends to take the lead on the financial side and she heads up the design, but their mutual respect enables them to inform each other's decisions in both areas. He said, for example, he wasn't sure about the more modern interpretation of the townhome facade for their 14 townhouses on Brooklyn's State Street, but he deferred to Ms. Hamlin's opinion and it became an award-winning project. "That's an example where mutual respect is strong enough that I took her opinion over my own."
Prior to founding her company, she had 15 years with Swig Weiler & Arrow Management Company, which owned and managed 8 million square feet of office space, where she finished her tenure as president.
Ms. Hamlin likes to play an active role in her projects. She said she chooses to only have one or two going at a time, so that she can give each one personal attention. "The business driver for me has always been a creative process," she said. "It isn't that I came into it with the goal to simply start a real estate business, but a creative business."
Update: This story was edited after publication.