CBRE's Mary Ann Tighe Has Revitalized NYC One Lease at a Time
---
---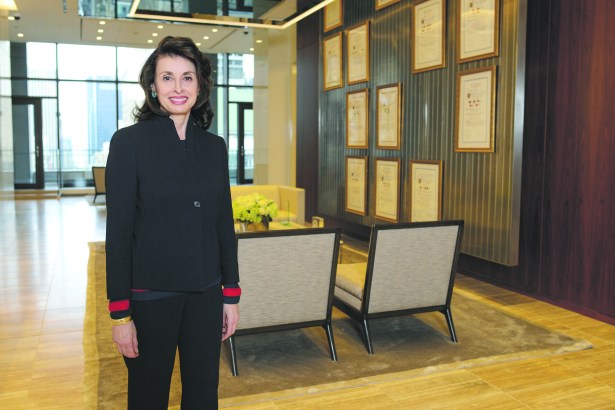 Almost every visitor who steps foot in New York City is familiar with the handiwork of Mary Ann Tighe, whether they know it or not. When the tri-state chief executive officer of CBRE started in real estate, Times Square was a dumping ground for the dregs of the city—but it looked very different when she was through. She was the one developer Larry Silverstein turned to when he needed to lease up his little Downtown project, the World Trade Center. And if you look at her roster of real estate clients—Coach, The New York Times Company, News Corp., the Archdiocese of New York—they're the most serious companies and brands in the world.
Aside from being one of the greatest dealmakers in New York real estate, Ms. Tighe has the distinction of being one of the most sophisticated bigwigs in her industry; when she was still in her 20s, she was a staff member for the Smithsonian and an arts adviser to Vice President Walter Mondale.
Commercial Observer spoke to Ms. Tighe in her office at the MetLife Building about the de Blasio administration, the World Trade Center and her days working in the White House.
Commercial Observer: What got you into real estate in the first place?
Ms. Tighe: I was 36 years old when I first got into real estate and knew nothing about real estate at all. I actually thought real estate consisted of what I now realize is retail leasing. It's astonishing to think of how ignorant one can be. I got into it because I had started the A&E cable channel. I was traveling constantly for business and my husband was in New York. I met a retired commercial real estate broker named Joe Bernstein, and he ended up telling me about his career.
I managed to get myself hired by the Edward S. Gordon Company with zero experience and did no transactions for 18 months. I just felt I had made a huge mistake. I was rescued actually by unquestionably the top woman broker in commercial real estate named Carol Nelson, and of course saying today she was the top woman in commercial real estate means she was probably one of a handful of commercial real estate brokers who were female. I just lucked into her taking me under her wing and that's how my career really began.
What was your first deal?
I always had an interest in different small-scale businesses because I was always interested in earning additional money. So to a greater or lesser extent I was comfortable negotiating whatever it was, [even] if I was selling Christmas cards [when] I was a kid. So I came to the business understanding the fundamentals. It wasn't rocket science. Really it was about strategies for getting the deals done. My first deal was with New York Theater Workshop for I think it was 1,500 square feet at the Candler Building [at 220 West 42nd Street]. This was when 42nd Street was always slammed, [but] New York Theater Workshop took space and [the workshop] hired me to be a leasing agent to the building. That is how my real estate career actually began. It's always been significant to me that I then got on the board of the New 42nd Street, I stayed on that board for I think 17 years and of course I did the first Times Square [deal for] the Condé [Nast] Building 10 years later in '96.
And then Condé again at 1 World Trade. Was Condé your most memorable deal?
That's very hard to say because I've done, just going down the grid, everything from Condé Nast twice, to the New York Times building, through the most recent GroupM transaction. We've anchored over 8 million square feet of new construction. All those deals are precious to me because you can look over the city and say, "Oh—I remember that deal because we did it."
How did the first Condé deal come about?
Before we did Condé at 4 [Times Square]—we did that in '96—I had a long history of working with Condé Nast so they were not strangers to me. The idea came to me because of my work on the "New 42nd Street" (a renewal organization for the Broadway area). I spent so much time understanding the street and the context of being a board member of the New 42nd that I really understood both the economics of the street and what could be gotten for the office tenant who entirely anchored the entire redevelopment, and at that point Condé was in over six buildings and it had grown both organically and by acquisition, and the idea of pulling them together in a very economically advantageous deal — it was a bold deal. People thought how could this chic company come to Times Square? And, of course, after Condé everyone else came.
When you first started in the New 42nd Street, Times Square must have been terrible.
It was horrible. I believe it was 1990 or '91 and interestingly they did not ask me to serve on the board because of my real estate background—it was because I had been involved in the arts, and it was about the theaters of 42nd Street. The theaters were all either porn houses that had been closed down or structures like the New Amsterdam that had been abandoned because they were so completely [indigent]. In those early years I used to joke that our board meetings were like séances; we'd all sit around, and we really didn't have a clear sense of what could be accomplished but over time, through Cora [Cahan] and then the chairman of our board a woman named Marian Heiskell—who happens to be part of the Sulzberger family—you see what the success of Times Square is.
I'm just amazed that you saw it.
I lived through every bit as we all did. And now I have to tell you I have concern that Times Square is a victim of its success because I now think the densities are too high. I don't think the plazas and the bike lanes are good for Times Square in that I think we act as though Times Square is only for tourists. But Times Square has to serve all the people. I'm hoping [Chair of the City Planning Commission and Director of the City Planning Department] Carl Weisbrod, who was one of the executive directors under the board of the New 42nd, will engage with it and [make it] more attractive to the people who need to pass through Times Square on a daily basis.
Is that the reason why Condé decided to move Downtown?
No, I think it was a lot of different decisions. I think if you plotted the demographics of the senior leadership of Condé Nast, you would see most of them live closer to 1 World Trade Center than they do to Times Square.
Speaking of World Trade Center, so you read the infamous critique in The New York Times saying the Freedom Tower was a disappointment. What were your thoughts on that?
I have a hard time with an architectural review that says basically "Good—but not good enough." In essence, that was the review. And then you think about what the Trade Center has to be—it has to accommodate the PATH, the 11 subway lines that are all connected to it and it has to fit a master plan that was voted on by so many stakeholders—I don't know what perfect would be in that scheme. There's never a sort of recognition of constraints. I only know this: That I never take people down to the Trade Center to tour where they're not dazzled.
What about 2 World Trade Center?
I do believe in my heart that we will see within this decade 2 World Trade Center go up.
Is this going to need an anchor tenant?
Absolutely it will need an anchor.
Has there been any talk about that?
We now have a steady stream of interest in all of the Trade Center, so again the thing is the timing of each of these buildings are different.
Now, your first job was at the Smithsonian—what drew you into politics, or, government, I should say.
I was a very gung-ho Democrat and working at the Smithsonian when Carter/Mondale was elected, and I was all excited about having the Mondales come to the Smithsonian during inauguration week. And each of them gave remarks—[but] they were not really good remarks. They were about culture and the government. Being—how old was I? 25? 24?—I thought, "You know I'm going to write to the Mondales and I'm going to suggest if they need background information, I was on staff, I'll ship them over anything you know they want on the cultural institution to the government." I sent a letter — a hard-copy letter, as you did in those days — and I don't hear anything. Then about four or five weeks later I get a stack of books and a note from the White House, on the letterhead of Mrs. Mondale's chief of staff, that said "Dear Ms. Tighe, We'd appreciate it if you could write 20 minutes of remarks from Mrs. Mondale on crafts in America."
You're kidding!
Now I knew nothing about crafts, [but] I looked through the books, I remember sitting in my little apartment with my son near me in the crib, and sitting at a typewriter and just pretending I'm the vice president's wife, what would I say? Bing-bang-bing-bang-bang-bang. And I sent off the remarks. This went on for three months. One day I get a call from the vice president's chief of staff, a guy named Mike Berman, and you'd have to know him as a big, cigar-smoking type politico, so he says, "I'd like to invite you to come in." I'm like, great! I get to go to the White House west wing right? So off I go to this teeny-tiny office with Mike and I'm sitting there and he says, "What do you know about hanging pictures on the wall?" I say, "Well, uh I don't know … What do you mean?" He said, "You see those pictures? I need to hang them. Will you hang those pictures for me?" So I say, "I don't have any equipment to do that and I'm not the greatest at hammering a nail. Typically my husband does that." So he says, "I'll get the equipment." I'm walking up and down the couch in my stocking feet showing the very nice gentleman how we're going to hang it on the wall. I sit down and he says, "How much money do you make now?" I remember it was under $12,000. He said, "I'm offering you $42,000 a year [to be deputy chairman of the National Endowment for the Arts]."
But the hanging the picture thing—what was that?
I said to Berman, "Out of all my years of interviewing that was the craziest interview, what was I doing hanging all your pictures?" He said, "I wanted to see if you were a snob." And to this day I laugh when I think of how he decided to test me. He said: "We already knew from your writing what you knew … I wasn't qualified to interview you on that anyway. I wanted to see if you were going to fit in or not."
As a student of art, what's the best building, art-wise, today?
I love the red Jeff Koons [Balloon Flower] right outside 7 World Trade [and Sky Memory], the piece in lobby for 4 World Trade, which is branded by Japanese artist [Kozo Nishino]. And you know, you can't beat the Josep Maria Sert piece, American Progress, in the lobby of 30 Rockefeller Place. I mean, there's a fair deal of artwork around the city.
Mayor de Blasio wants a role in real estate. It's amazing how many people in real estate didn't think that was the case when he was elected.
That's right. I think there were so many people who were afraid he was going to undo what was working in the city. I don't think there's anyone who disagrees that the affordability of housing is open, that he's brought the right talents to bear, and there's so many ways he's won, if you will, the hearts and minds of the real estate community.
Last question: Your outlook on 2015?
Historically, the fourth quarter is always the biggest for transactions in the industry in the city and normally what you do is you work like a demon to work for Dec. 31 and close it out. [Last] year really for the first time ever, there was so many deals that we began to develop sort of tacit agreement with our customers to just roll [deals] into the New Year. As a result of this I think we're going to have a record real estate year in the city.