Stat of the Week: 26 to 21
---
---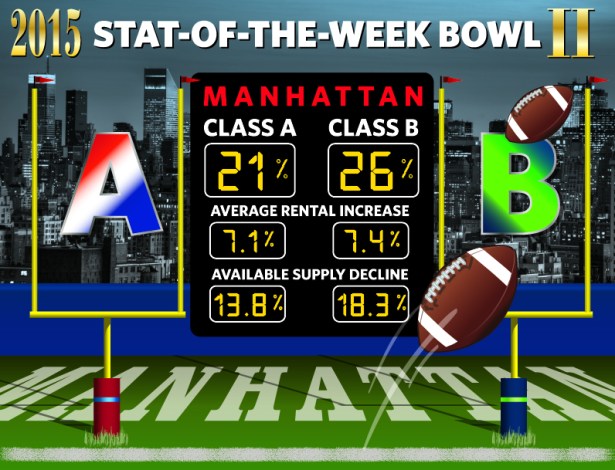 As the weather gets colder and the footballs get deflated, we know it's once again time for the second biggest eating day of the year, Super Bowl Sunday. And what better way to prepare for the big game then by hosting the second annual Super Bowl Stat of the Week. Just as the Seattle Seahawks are trying to repeat as NFL champions, so is Class B office space trying to repeat as Stat of the Week Super Bowl Champion. So let's see whether Class A or B had higher asking rental increases and larger decreases in the available supply in 2014.
The first half of our comparison equation is based on average asking rental increases for 2014. Manhattan Class A asking rents jumped out to an early lead with a 7.1 percent increase last year to $77.25 per square foot—a six-year high. But Class B asking rents came ready to play, posting a 7.4 percent year-over-year increase to $59.24 per square foot, ending the first half winning again by the slimmest of margins.
The second half of our comparison equation looks at the decline in the available supply for 2014. Class A posted a solid percentage, as the Manhattan available supply dropped 13.8 percent in 2014. Class B needs a strong performance in its change in available supply to repeat as the Stat of the Week Super Bowl Champion, and it does not let us down; in 2014, the change in Manhattan Class B available supply outperformed Class A with an 18.3 percent decline, dropping from over 14.5 million square feet at the start of 2014 to under 12.0 million square feet to end the year.
So Class B defeats Class A for the second year in a row by a score of 26 to 21 (percent). This outcome is in-line with my Super Bowl prediction of Seattle beating the New England Patriots and repeating as champions.
Richard Persichetti is vice president of research, marketing and consulting at DTZ.