REBNY 2015 Honoree Peter Hauspurg
---
---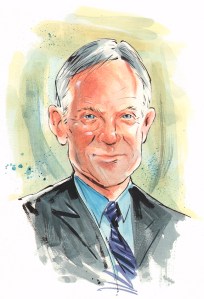 Peter Hauspurg, who founded Eastern Consolidated in 1981 with his partner and wife Daun Paris, has a law degree from Fordham University. Admittedly "not a natural at practicing law," his background has been invaluable in commercial real estate.
"It's helpful to speak the same language as the people putting the deals together," he said, referring to the back and forth of contract negotiations."It's like being the only non-Russian speaker in a room. As soon as you learn Russian you realize, 'Jesus, you don't know any more than I do.' "Always intrigued by numbers, Mr. Hauspurg specialized in tax law. But the minutiae of the year-to-year changing provisions was unappealing. Now he employs experts to, say, find ways for a C-Corp selling a property to avoid double-taxation.
"New York is the most heavily taxed jurisdiction in the U.S. A lot of our deals are tax-driven," he said.
Creating acquisition and disposition structures to minimize tax effects for clients is a house specialty, yet tax and law are just two of the languages understood around his offices. His staff of 70 speaks 14 others, in addition to English, from Arabic to Yiddish. Chinese dialects are especially in demand, and Mr. Hauspurg's firm can deliver.
Adapting to the industry's evolution is undoubtedly part of the reason Mr. Haupsburg is recipient of this year's Louis Smadbeck Broker Recognition Award, given  by the Real Estate Board of New York to the executive who best exemplifies a successful commercial real estate broker.
Mr. Hauspurg has witnessed major changes in the industry over the years.
"In 1981 deals were literally happening on a yellow pad," he said. "Spreadsheets were few and far between."
Why? You didn't need as much detail as you do today about who tenants are, or about environmental and engineering issues. "Information available now is so much better: more accurate, more efficient, more of it. Sophisticated equity investors require it. Banks require it."
Mr. Hauspurg said real estate used to be more primitive than the financial world, but now it's caught up to meet the changing needs. He noted, for instance, the practice of securitizing loans (as opposed to holding them on a balance sheet), and the introduction of 10-year spreadsheets and IRR analysis–all driven in part by an ever-expanding circle of investors.
"Early on in the '80s there was a much smaller crowd of players, an easily identifiable group of investors," Mr. Hauspurg said. "Today distribution is much wider and more immediate." With the due diligence online, he said, deals can go to 2,000 or 3,000 investors.
Another change? A single practitioner could thrive in the 1980s, Mr. Hauspurg said. In Manhattan almost everything was done as an exclusive, unlike the rest of the U.S. Now, though more than half of deals are still off-market, he said, you need a team and a way to keep tabs on things.
Even before the advent of the computer and the Internet, Mr. Hauspurg managed to monitor deeply complicated property developments. One of his most significant deals, for instance, spanned nearly three decades. He started work on building 1 Bryant Square in the 1980s. The final pieces of the puzzle—four properties—came together in 2000.
Sticking with something, he said, "That's part of the business."
Mr. Hauspurg, who grew up in Rye, N.Y., and lives in Bedford, N.Y., is a member of the board of directors of the Westchester Land Trust, the New York City Director's Advisory Council, the Mortgage Committee of M&T Bank and the Board of Governors of REBNY. He is president of the Board of Trustees of the Jewish Child Care Association, and part of New York City's Third Party Transfer System, which renovates and creates affordable housing.
Mr. Hauspurg's 1993 all-day auction of more than 1,000 commercial properties, the largest ever in New York City, is regarded as a great innovation in a difficult time.
"Nothing is ever completely dead in real estate," he said. "If you stay on it, keep tracking it, you can bring it back to life. In this business you have to be an optimist. You never say never."