Rabsky Group Takes $95M TD Bank Loan for W'burg Development
---
---
TD Bank provided a $95 million mortgage to refinance existing debt on Rabsky Group's recently completed Leonard Pointe development in Williamsburg, Brooklyn, city records show.
The loan replaces construction financing provided by PNC Bank in October 2013. TD Bank's Brian Terry, a senior vice president for the suburban New York and Long Island area, originated the new debt, according to the loan documents.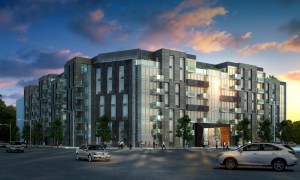 Brooklyn-based Rabsky Group acquired the site for $18 million in June 2012 and began construction on the multifamily rental property at 395 Leonard Street, formerly 88 Richardson Street, in 2013. The previous owner of the site is listed in records as Michael Riccotta.
The seven-story property, just south of McCarren Park, houses 188 units. The building opened on Jan. 1.
Durukan Design drew up the plans for the massive U-shaped development located on the former lot of the once-popular Meeker Flea Market. The design of the 139,702-square-foot building was inspired by Brooklyn's industrial past, according to previous news stories.
The property—which contains a community room with pool tables, screening theater, pet grooming area, and a yoga studio and gym—is 60 percent occupied, according to a Fiddler Realty, which handles the property's leasing
Studio apartments at Leonard Pointe start at $2,600, one-bedroom units start at $3,250 and two-bedroom units start at $4,335.
Representatives for Rabsky Group were not immediately available for comment. A TD Bank spokesperson declined to comment.