NYC Elite Takes 25,000 SF in Tribeca
---
---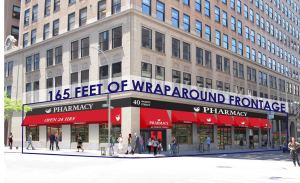 Gymnastics studio NYC Elite is relocating from its current home in Soho to a sprawling 25,000-square-foot space in Tribeca, Commercial Observer has learned.
The studio, which has three locations in Manhattan, will relocate from its 14,000 square-foot space at 100 Avenue of the Americas between Broome and Grand Streets to Newmark Holdings' 40 Worth Street, according to a spokeswoman for the landlord. NYC Elite plans to open its new space this fall.
According to the spokeswoman, the studio will take 10,987 square feet on the ground floor, 4,106 square feet on the mezzanine level, 2,761 square feet on the lower level and 7,160 square feet in the sub-lower level. All told, the studio will occupy 25,014 square feet.
"[This] was a use that the ownership welcomed," said Ross Kaplan, a broker with Newmark Grubb Knight Frank Retail. "They thought the use would bring a lot of value to the building and to the neighborhood. We had other uses come to us for better economics, but the ownership was really specific about what they wanted the use to be in the building."
Mr. Kaplan, along with NGKF Retail's Kate Cohen, represented the landlord in negotiations. Miyad Realty's Michael Rouzenrouch represented NYC Elite.
"40 Worth is a great fit for NYC Elite," said Mr. Rouzenrouch.  "It has some very unique features that are hard to come by in existing Manhattan buildings such as great column spacing and tremendous ceiling heights.  After exploring many downtown buildings we felt this was the right match for their growing business."
Asking rents for the space were $95 per square foot on the ground floor and $45 per square foot on the sub-lower level, according to NGKF Retail.
"The main reason that we signed this space is because we were looking for a larger space for our students and families," said Tina Ferriola, the owner of NYC Elite. At the studio's Soho location, 1,600 gymnasts ages 15 months through 18 years are served. "We're just excited about the large amount of space that we're going to have. We were tight in our old studio."
Mr. Kaplan and Ms. Cohen are also marketing space on the other side of the lobby at 159 West Broadway, which sits on the southeast corner of Worth Street. There is currently roughly 7,024 square feet available.
Newmark Holdings currently owns and operates over 8.5 million square feet valued at over $3 billion, according to a press release issued by the firm.