Hotel Giraffe Refinanced With CCRE
---
---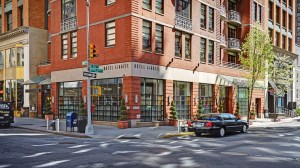 Boutique lodge The Hotel Giraffe refinanced with a $39 million CMBS loan from CCRE negotiated by HKS Capital, Mortgage Observer has learned.
The 39-key hotel is owned by self-described "indie hotelier" Henry Kallan, who has been a client of HKS' Jerry Swartz's for more than a decade.
Mr. Swartz fondly recalled helping broker an initial loan for Mr. Kallan to purchase the land at 365 Park Avenue South—then the site of an unseemly SRO—when the Flatiron area was not the tony neighborhood it is today.
"Fifteen years ago I said the area was emerging," Mr. Swartz said. "And he said 'ehh.'" But in the end he convinced Mr. Kallan to build The Hotel Giraffe, one of many that now make up his mini empire, The Library Hotel Collection. (Mr. Kallan's signature property is the Library Hotel, on 37th Street.)
The latest loan is the fourth that Mr. Swartz has negotiated for the property, at 26th Street. The 10-year loan has a 4.3 percent interest rate.
"It makes sense because the rates are low now and the loan was coming due," said Mr. Swartz, who also convinced the ownership to take more money out. I convinced them to take more because being able to pull out additional tax free dollars … It just made sense. There will be a lot of opportunity coming up in the next year or two."
Mr. Swartz worked with his colleague Ayush Kapahi to negotiate the loan.