CBRE's Q4 2014 Report Reaffirms Downtown's Strength
---
---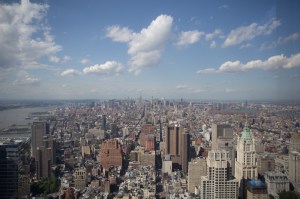 CBRE (CBRE) Group today released its fourth-quarter 2014 statistics that included figures on the full-year 2014 Manhattan market, confirming what many in the New York real estate space had already known: Downtown's resurgence is continuing unabated.
The report, issued at the company's quarterly media breakfast at its 200 Park Avenue New York headquarters, shows that average asking rents Downtown reached an all-time high, with an average asking rent of $51.97 per square foot, a $5.50 increase from 2013.
"Downtown achieved historic activity and all-time high average asking rents in 2014 and we will continue to see that momentum in 2015, which I believe will be a record year," said Mary Ann Tighe, chief executive officer of the New York Tri-State Region of CBRE and one of the presenters at the breakfast, in prepared remarks.
The report also shows that leasing Downtown for all firms during the fourth quarter of 2014 reached 1.69 million square feet, a 32 percent increase from the five-year quarterly average of 1.28 million square feet. The availability rate Downtown was 11 percent in 2014, down from 13.5 percent a year prior.
Top lease transactions downtown included GroupM's 515,456-square-foot lease at 3 World Trade Center, OSP Group's 157,210-square-foot lease at 1 New York Plaza and High 5 Games 87,633-square-foot lease at 1 World Trade Center.
CBRE's report also highlighted technology, advertising, media and information, or TAMI, tenants' continued critical role in the city's real estate market. Companies including Groupon, Twitter, WeWork, Etsy and Buzzfeed have all signed leases for over 100,000 square feet last year. Many of the TAMI tenants have necessitated that landlords reposition their properties to include new lobbies, outdoor space and shared space.
But not everything in last year's real estate market was rosy, Ms. Tighe and co-presenter Peter Turchin, the company's vice chairman, noted this morning. While pre-war office buildings (constructed in 1940 and earlier) and new construction (constructed in 2005 and later) are popular with tenants, the mid-century modern buildings, which were built quickly and cheaply in the 20th century, are "an untapped opportunity" and are now struggling to attract the caliber of tenants and command the rents of other properties, they stressed. Ms. Tighe said that these buildings are more difficult to reposition into trendy, loft-like spaces that have open plans and space for amenities. Architects, she said, have yet to crack the code on how to successfully redesign these properties.