An Etiquette Guide to the 2015 REBNY Gala
---
---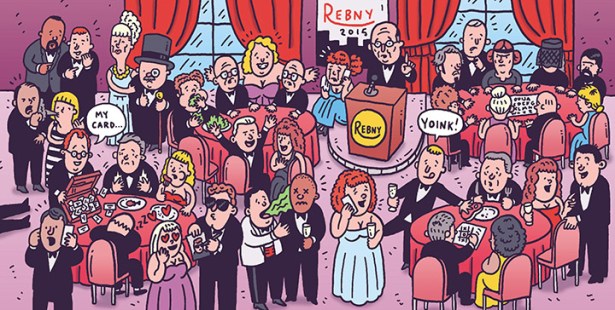 While Emily Post is the queen of all forms of etiquette, we doubt she has ever codified the behavior of real estate professionals attending the Real Estate Board of New York's annual gala.
Held on Thursday, Jan. 15, the $1,100-per-ticket REBNY banquet at the New York Hilton Hotel is a breeding ground for hobnobbing and celebration. With more than 2,000 people in attendance, it can be a wild night. As Douglas Elliman's Faith Hope Consolo said: "This is not an easy audience to control. Real estate in New York is like one big theater. Everyone in real estate thinks they're in Hollywood." So, for folks who plan to attend the industry's biggest night out, Commercial Observer asked event veterans for some advice on how to have a fruitful night at the New York Hilton for the 119th annual banquet.
Talk (or be on the phone) during speeches.
At most events, people are respectfully quiet while people are on stage talking. Not so at the REBNY gala. Here it is acceptable to talk the entire time amongst your peers. JLL's Jon Caplan said that people network throughout the event and some people don't even make it to the table to eat dinner. He recalled a number of years ago when former Mayor Rudy Giuliani was the guest speaker and folks were busy talking while the mayor was giving his speech.
Keep it moving.
Talk to people, but don't plan on closing deals. "I don't think people go there with the intention of doing business in the traditional manner," said Cushman & Wakefield's Ben Fox. Woody Heller of Savills Studley said his goal is to chat with as many people as possible and "identify who to call back later for a longer conversation." To reinforce the importance of networking at the gala, Mr. Heller invokes the "five-minute rule." If you are on his team and spend more than five minutes seated at the table eating dinner, you're not invited back the next year. In fact, he's been sighted standing next to his table speaking to clients while finishing his meal, to avoid going over the time limit.
Don't expect to find specific people.
Figure out who you want to talk to and cross your fingers on locating them. Mr. Fox noted that you won't know where everyone is sitting until you arrive at the event and once you learn where they are seated, they may not even be at their assigned table. Suppose you are lucky enough to find someone you had hoped to speak to, heed the following advice: "Bring as many business cards as your purse or pockets can hold and politely step into the path of the person you want to meet, shake their hand, introduce yourself and wish them well," said Adelaide Polsinelli of Eastern Consolidated.
Bring breath mints.
While there may only be a handful of close-talkers, the banquet is a packed event and people often want to talk in hushed tones. In order not to offend anyone with that halitosis, bring some breath fresheners. As Jeffrey Roseman of Newmark Grubb Knight Frank said: "Two words: breath mints."
Other Tips for Navigating the Evening:
. Interrupt people in conversations
. Chew with mouth open
. Eat with hands
. Wipe hands on rented tuxedo
. Snatch food and beverages from other tables
. Play the net worth game ("How much do you think those guys are worth?")
. Lie about how well the year has been
. Gush over the rock stars in the industry