Women's Apparel Retailer To Open First Brooklyn Store
---
---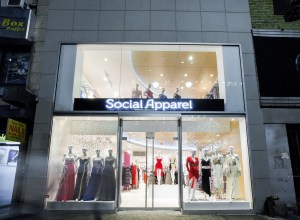 Dress and fashion retailer Social Apparel will open its first Brooklyn location next spring in the Fulton Mall area of Downtown Brooklyn, Winick Realty Group announced last week.
The company, which currently operates stores for teens and young adults in Herald Square, the Garment District and four malls in the tri-state area, signed a lease at Solil Management's 455 Fulton Street for 2,224 square feet on the ground floor and 800 square feet of second-level space. The space commanded an asking rent of $190 per square foot, based on the ground-floor rate, Winick representatives said.
"With a very specific criteria for their locations, Social Apparel can be quite particular about which streets will garner ample business," said Winick broker Ezra Safdieh in a prepared statement. "Their strategy targets shopping corridors that brim with low- and middle-income customers, and there may only be a handful of such streets left in New York City. Fulton Mall continually draws this clientele on a seven day-a-week basis, making this location especially compelling for them."
Mr. Safdieh and his Winick colleague Young Byunn represented the tenant in the deal, while Solil's manager of commercial leasing, Brett Weinblatt, negotiated on behalf of the landlord in-house. Mr. Weinblatt declined to comment on the transaction.
The fashion retailer's new digs sit between Jay and Lawrence Streets in short walking distance of seven subway lines.