Trinity Church Seeks Demolition Permit at 68-74 Trinity Place
---
---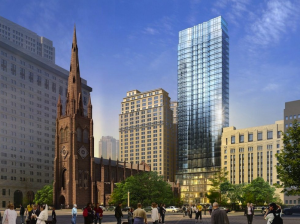 A few months after ground was supposed to be broken at 68-74 Trinity Place, Trinity Church has filed a demolition permit application with the city's Department of Buildings, according to agency records.
The demo permit application is pending, according to a DOB spokesman, and the church's application for a new 40-plus-story residential and office tower was disapproved on Oct. 10.
"What was turned down, as anticipated at the time, was a building plan that did not meet required rear yard setback requirements," a spokesman for Trinity emailed Commercial Observer. "That denial then allowed Trinity to the start the process of going to [city's Board of Standards and Appeals] to seek a variance from those requirements to create a more efficient building. The request for that variance was supported by [Community Board 1]."
The property contains a through lot between Trinity Place and Greenwich Street as well as two irregularly shaped interior lot portions, for which the zoning resolution would require the provision of rear yards with a depth of 20 feet, the CB1 resolution noted. On Nov. 20, the board recommended that BSA grant the variance in order for Trinity Church to develop the parish hall and residential tower, which would reduce the building to 46 stories from 48.
Reverend Dr. James Cooper, 17th Rector of Trinity Wall Street which owns Trinity Church, announced in July 2013 that the church's vestry voted to replace the 90-year old structure, as Commercial Observer previously reported. The existing structure is comprised of a six-story building at 68 Trinity Place/103-107 Greenwich Street and a 25-story building at 74 Trinity Place/109 Greenwich Street.
Pelli Clarke Pelli is designing the new building, on a site the church has owned for at least 75 years. The residential portion will be "developed by a third party that would also construct the core and shell of the residential development, which would subsidize the construction of the Parish House," the CB1 resolution notes. Trinity Church hasn't yet selected that developer.
The church will move into the first seven floors, spanning 93,180 square feet, and the apartments will occupy 157,185 square feet above, New York YIMBY reported in the fall.
According to the August plans submitted to DOB, there will be four apartments per floor on floors 10 through 25, three units per floor on 26 to 38, two apartments on floors 39 to 41 and one apartment each on 42 and 43. The amenity spaces will be on floor nine and mechanical space will be housed on floors eight and 44. The new  building will contain a parish hall, facilities and offices for Trinity's ministry, the Sunday school and rooms for use by community organizations, of which more than 60 currently use 68-74 Trinity Place, a July 2013 church press release indicated.
In September, church offices relocated from 68-74 Trinity Place to 120 Broadway, a church spokesman noted.
The church's spokesman said no one from the church was available to talk due to the holidays.