The (Possible) 2016 DNC in NYC: Where is Everyone Going to Stay?
---
---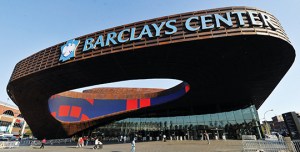 Last month's announcement that New York City had made the shortlist for the 2016 Democratic National Convention has given Mayor Bill de Blasio an unprecedented opportunity to showcase Brooklyn, a borough toward which he doesn't even attempt to temper his affinity ("I believe Brooklyn's in the house," he cheered at the DNC Community Meeting earlier this fall). The Barclays Center would be the focal point of the three-day pep rally and delegates, members of the media and visitors could bask in the hipster, farm-to-table, bespectacled glory of Kings County.
While the Big Apple remains a viable contender (the 2004 Republican National Convention held at Madison Square Garden went relatively seamlessly, save the roughly 1,800 arrests of protesters) a dearth of hotel rooms in the immediate vicinity of the arena has been cited as a shortcoming of the city's bid. According to Tucker Reed, the president of the Downtown Brooklyn Partnership, there are six hotels in Downtown Brooklyn with a collective 1,500 rooms. At the 2012 Democratic National Convention in Charlotte, N.C., 61,246 hotel rooms were consumed in the Queen City's metropolitan area over the course of the convention. If these figures bear any resemblance to what will transpire in 2016, it would leave a huge percentage of attendees relegated to lodging far from the epicenter of the political universe (for those 72 hours, at least).
What's in Downtown Brooklyn right now.
First up, there's The New York Marriott at the Brooklyn Bridge at 333 Adams Street. If the Marriott is booked, the Sheraton Brooklyn New York Hotel at 228 Duffield Street is a sound alternative. The Aloft New York Brooklyn and Hotel Indigo Brooklyn, at 216 Duffield Street and 229 Duffield Street, respectively, are both viable options offering trendy decor while masquerading as less corporate than they actually are. For those wanting to get closer to the thriving restaurant/hipster scene, the NU Hotel at 85 Smith Street describes its 93 rooms as "loft-like, reminiscent of an urban artist's studio with a touch of whimsy." For the more cost-conscious delegates concerned about taxpayer expenses, the newly-opened Hampton Inn Brooklyn/Downtown at 125 Flatbush Avenue Extension is budget friend(lier) than most. And though reviled by many in New York City government, Airbnb will also likely have a number of listings from residents looking to flee the crowds and capitalize on the convention (if Airbnb hasn't yet been deemed illegal).
What will (likely) be finished by 2016.
There are also a few hotels in the neighborhood's pipeline, bringing the total number of available accommodations to approximately 2,000 rooms. A Holiday Inn with 247 keys is rising at 300 Schermerhorn Street and is expected to open in the coming year. Around the corner at 40 Nevins Street, a 13-story EVEN Hotel will have 204 rooms. A 200-room Marriott Autograph Collection Hotel is in the final planning phase and is set to open at 95 Rockwell Place.
Looking beyond Downtown Brooklyn. 
There is no shortage of hotel rooms in the five boroughs. According to hotel information provider STR, as of Oct. 2014 there were 4,272 hotel rooms at 50 distinct properties throughout Brooklyn and 87,719 hotel rooms at 379 distinct properties in Manhattan. Citywide, there are 112,788 hotel rooms at 625 distinct properties.
Josh Gold, the spokesman for the Hotel Trades Council representing 32,000 hotel workers in New York City, noted "there are limited rooms in Brooklyn, but within 30 minutes of the Barclays Center by public transportation, there are more hotel rooms than in the entire cities of Philadelphia (approximately 45,000) and Columbus (approximately 25,000) combined." (Philly and Columbus are NYC's competition.)
City Hall has stressed that this event will impact the entire metropolis and hotels everywhere will be utilized.
"This is a five-borough convention and convention guests will be staying a short distance away from the Barclays Center," said Marti Adams, a spokeswoman for Mr. de Blasio. "We expect the city to exceed 102,000 rooms by year's end, and reach up to 115,000 rooms citywide by the end of 2016, which will more than accommodate the convention's needs."
There are benefits of staying outside of Downtown Brooklyn. 
Because many of New York's hotels are clustered, whether in Midtown East, Midtown West or the Financial District, it will be possible for delegates from the same state to stay close to one another. This provides a stark contrast to the 2012 DNC in Charlotte, N.C., where delegates found themselves spread out over large swaths of the metropolitan area.
Moreover, the hotels around the Barclays Center tend to be smaller and lack meeting space. Many of the 1,000-plus-room hotels in Midtown, including the New York Hilton Midtown (which has 151,000 square feet of functional meeting space), the New York Marriott Marquis and the Sheraton New York Times Square Hotel, will be sought after by delegations that will want to host breakfasts and hold events.
Officials recognize that traffic is likely to be snarled, making the Atlantic Avenue Barclays Center subway stop, with its nine train routes and accessibility to the Long Island Railroad's Atlantic Terminal, a transportation lifeline. This will permit less harried travel from points throughout the city.
City Hall noted that when the DNC Technical Advisory Committee came to New York for its site visit, they stayed at a Midtown hotel and made it to the Barclays Center in 13 minutes using a dedicated lane, similar to what would be implemented for delegates during the convention. The city is also exploring using dedicated subway trains to transport delegates to and from the Barclays Center.
This is what New York hoteliers are saying.  
Andre Hammond, the operator of Hotel Indigo, says he's hopeful the convention will come to the borough.
"I have good feelings [about the convention]. There's no better place for it to be than here. It would be beneficial not just to me, but for Brooklyn," he said.
Robert "Toshi" Chan, the owner of the Flatiron Hotel, said that his property typically caters to travelers in the fashion and tech industries, not politicians, but stressed he would love to welcome delegates.
"[The convention] would be great for the hotel industry," said Mr. Chan. "It would probably be even better than the Super Bowl was for us."
Mr. Chan described July and August as "borderline" months for hotels, generally better than the dark days of January and February, but not as strong as the spring and fall months. "It would probably make for a record August hotel revenue in comparison with the last 10 years," he surmised.
And Emily Venugopal, the director of public relations at The Pierre, A Taj Hotel, said, "As always, The Pierre will be ready to cater to its discerning clientele seeking the security, services and amenities of a full-service Forbes five-star hotel located on Central Park."
Ms. Venugopal said that during the 2004 RNC in New York, The Pierre provided Clefs d'Or members of its concierge staff to assist in managing the concierge desk that was set up in the Farley Building for the media.
But on the property, she noted, "It was business as usual, catering to a global crowd for their numerous meetings and dinners, which our team here is fully versed and trained to handle seamlessly."
If you want to support hotels that support Democrats:  
Of course, politics is a team sport. So if you want to support hotels whose stakeholders lean left, check out Hyatt Hotels and Resorts. The Pritzker family, whose family founded and still has a stake in the Hyatt Hotel chain, has strong ties to the Democratic Party. Penny Pritzker, now serving as the U.S. secretary of commerce, was at the helm of President Obama's massive fund-raising operation during the 2008 presidential election. Ms. Pritzker also wrote a $250,000 check to help fund the 2013 Presidential Inauguration.
Also, Andrew Tisch the co-chairman of the board and chairman of the executive committee of Loews Corporation, the holding company that oversees Loews Hotel & Resorts, is a big Democratic macher. Mr. Tisch supported a number of Democratic Senators, including Cory Booker, Kirsten Gillibrand, Kay Hagan and Mary Landrieu, in their respective campaigns. Loews Hotels & Resorts owns and operates 18 hotels in the U.S. and Canada.
Or if you're with the opposition: 
Not everybody who comes to the convention is on the DNC team. For those rooting for the GOP and plan on waving protesting placards there's the Marriott Hotels & Resorts. Members of the Marriott family, still heavily involved in the operation of the hotel empire, were generous contributors to 2012 Republican presidential candidate Mitt Romney. Bill Marriott, the chairman and chief executive officer of Marriott International, which includes the brands Courtyard Marriott, Fairfield Inn & Suites, the JW Marriott Essex House and The Ritz Carlton, helped bankroll Romney Super PAC Restore Our Future. So did his brother Richard Marriott, the chairman of Host Hotels & Resorts, which operates 118 hotels and properties. (In case you didn't know it, Willard Mitt Romney was named after J. Willard Marriott.)
Also, Texan billionaire Robert B. Rowling, whose company owns Omni Hotels, helped fund American Crossroads, a super PAC that, according to The New York Times, spent at least $20 million attacking President Obama through ads. In October 2012, the Associated Press reported that Mr. Rowling had contributed as least $5.1 million to the Republican Party and candidates during the 2012 cycle.