The Beloved NYC Businesses That Died in 2014
---
---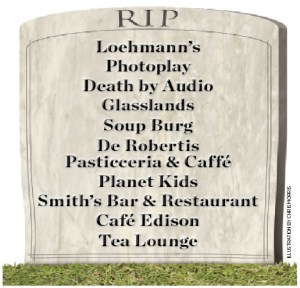 Like its residents, New York City's beloved neighborhood establishments come and go. In this perpetually gentrifying town, New Yorkers have become accustomed to seeing their favorite dive bar shut its doors and their reliable greasy spoon be priced off the block. But we should at least do the honor of remembering them. Here are 10 special city spots to which we said goodbye in 2014.
Loehmann's (Kingsbridge, Upper West Side, Chelsea)
Unlike many of our other favorites, it wasn't a spike in rent that caused Loehmann's demise. The national brand—which once had stores in 17 different states—declared bankruptcy a year ago; the fashionistas who depended on the discount designer store, around since 1921, just had to wait for the grim reaper. All four New York locations shut their doors by the end of February, leaving grandmothers in Riverdale and college grads in Chelsea without a "Back Room" to scour for a dress for their grandson's bar mitzvah or Diane Von Furstenberg wrap dresses at a Banana Republic price. While there are still deals to be had in the five boroughs (Neiman Marcus Last Call opened in Brooklyn on Nov. 21), the experience of the communal dressing room, or the camaraderie of octogenarians shopping for a steal, remains elusive without Loehmann's.
Photoplay (Greenpoint, Brooklyn)
We were shocked to learn that in 2014, the age of Netflix and Hulu streaming, there were still video rental stores left in the five boroughs. But now there is one less: Greenpoint's Photoplay at 928 Manhattan Ave. shut its doors in late February after 12 years in the neighborhood. For those nostalgic for the Blockbuster era or who are diehard cinephiles, the loss of one of the last holdouts in the video business feels profound. According to Gothamist, "owner Michael Sayers was always an erudite yet approachable presence behind the counter, recommending obscure titles and talking movies with the customers and staff." Live-streaming: 1, DVD-rentals: 0.
Death by Audio (Williamsburg, Brooklyn)
2014 will go down in hipster history as a particularly bad year for Williamsburg's live-music venues. Death by Audio, which called an unassuming warehouse at 49 South 2nd Street home, became a casualty of a rapidly changing community and hosted its final show on Nov. 22. The authentic Williamsburg haunt was grungy ("bring hand-sanitizer," one reviewer suggested on FourSquare), but beloved. The only whiff of consolation (or is it irony?) for its stalwarts is that the millennial media company Vice will move into the space (we wrote about this back in September). One should ponder the question New York Observer contributor Jamie Peck posed in light of DBA's demise: What's going to happen when we run out of neighborhoods to migrate to?
Glasslands (Williamsburg, Brooklyn)
If you're going to go out, you should at least go out with a bang. Glasslands, a self-described "psychedelic venue partyhaus" at 289 Kent Avenue and a presence in South Williamsburg for the past eight years, will hold its final concert on New Year's Eve (hey, we said this was a bad year for the Williamsburg party venues). Earlier this month, it hosted a funeral dance party commemorating the Death of Williamsburg, a neighborhood that has died at the hands of Whole Foods and I-Bankers. But, oh what a venue this once was! Before they were stars, MGMT, TV On The Radio, and Bon Iver played on its stage. On its website, Glasslands wrote a farewell letter to its supporters, describing its run as an "an awesome blur" and noting that "when Glasslands opened in 2006 as an experimental community art space, Kent Avenue felt like a forgotten backwater." The letter bids its fans adieu, saying "goodbye for now, but not forever."
Soup Burg (Upper East Side)
In 1964, Lyndon B. Johnson was president, America was embroiled in an escalating conflict in Vietnam, and the Port Authority revealed plans to build two 110-story towers in Lower Manhattan at a site called the "World Trade and Financial Center." That year, Jimmy Gouvakis' father bought Soup Burg, a quintessential neighborhood diner at 1095 Lexington Avenue. Soup Burg had survived for 50 years, serving as a dependable alternative to neighborhood eateries catering to the Upper East Side bourgeoisie. The burgers were juicy, the omelets generous. Said Mr. Gouvakis to The New York Times, which eulogized the unpretentious diner, "it's going from a family neighborhood to a corporate neighborhood."
De Robertis Pasticceria & Caffé (East Village)
If Soup Burg's existence during the Johnson Administration is impressive, it is mindboggling to consider that when the De Robertis family opened its eponymous East Village cafe, there were only 45 states in the union and World War I wouldn't commence for another decade. Earlier this month, the 110-year-old pastry shop specializing in Italian sweets (its pignoli cookies and cannolis were especially delectable) sold the property at 176 First Avenue and shut its doors. Four generations of the De Robertis family have kept the store alive, but times in the neighborhood and for the clan are a changin'. "You go into any of these chain coffee shops, you're just a person and they're robots," said John De Robertis to BedfordandBowery.com. "Here, I think people felt at home."
Planet Kids (Upper East Side, Upper West Side)
Planet Kids, which had stores at 247 East 86th Street and 191 Amsterdam Avenue on the family-friendly Upper East and West Sides, closed both locations on Feb. 28. No longer can new parents walk into the baby warehouse, which carried everything from car seats to crib toys to clothing, and debate the merits of a Bugaboo over a Baby Jogger. "We've become more of a showroom for our customers," owner Ariel Tavasi told DNAinfo earlier this year. "They come in to look at the merchandise and ask questions, but then they leave and try to find cheaper prices online." Indeed, as ordering goods online continues to evolve as a hassle-free alternative to shopping at brick-and-mortar stores, it's increasingly difficult for some merchants to eke out a living.
Smith's Bar & Restaurant (Times Square)
Smith's Bar at 701 8th Avenue was a vestige of a grittier Times Square, one with more exotic dancers and drug deals and fewer Sesame Street characters. Smith's ended its 60-year run in October, culminating its dive-y history that included thousands of last calls and beers poured on tap, as well as some gorier incidents, most noteworthy a murder and a suicide. Today, the windows are covered, its distinct neon signage unlit. The Observer reported that the standby was closing because of issues with its lease, and it remains unclear what will become of the corner property.
Cafe Edison (Times Square)
Like many doomed establishments on this list, the impending closing of Café Edison, known to many theatergoers as the Polish Tea Room, has sparked outrage among loyal customers. The restaurant at 228 West 47th Street has been in business for over 30 years, serving homemade Eastern European Jewish cooking to Broadway's producers, playwrights and performers. Conrad Strohl, the café's owner and manager, told Commercial Observer he will probably close mid-month. "The hotel wants us out to put in a white-table-cloth restaurant with a fancy chef," he said. "We didn't really expect things to end like this."
Tea Lounge (Park Slope)
The Tea Lounge at 837 Union Street in Park Slope will brew its last cups of Earl Grey this weekend. "I'm closing due to high costs and lack of business," owner Jonathan Spiel told Commercial Observer. The shop serving fair trade, herbicide-free organic coffee embodied Park Slope to its core; it was simultaneously family-friendly, offbeat and charming. There were open mic nights. There was live music. And there was the mission to "help revive and nurture a sense of community" for urbane moms and itinerant freelancers alike, to which it no doubt succeeded.