State of the Market '14/'15: How Long Can It Last?
---
---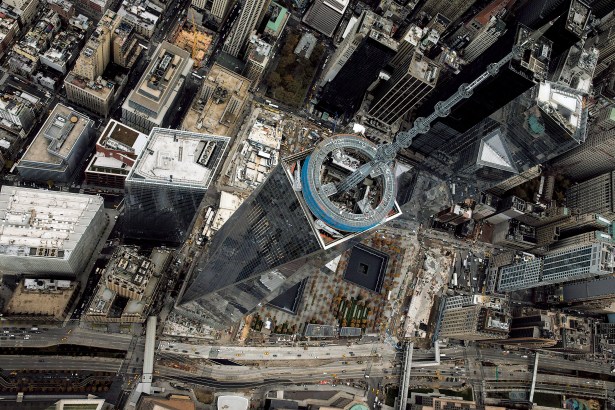 The year that's winding down was one of superlatives. The city's most important anchor tenants began to assume occupancy in the tallest building in the Western Hemisphere. One of the most prestigious department stores took a 250,000-square-foot lease in a planned neighborhood expected to be larger than most American cities' central business districts. And one of the most progressive mayors in the country spent his first year in office implementing one of the most ambitious agendas.
But regardless of the headlines and the show-stopping deals that happened in 2014, concerns and controversies also linger, and questions about 2015 abound.
Perhaps few case studies demonstrate the doubt hovering over the positive gains for the city's real estate market better than Avison Young's planned office expansion in March 2015 from 14,000 square feet to 40,000 square feet. Arthur Mirante, the company's principal and tri-state president, declined to state the future address but said he planned to hire "between 15 and 20 office leasing brokers" next year.
"That's a pretty good benchmark," Mr. Mirante said. "That means if we can't continue to grow, someone's neck will be on the line."
The World Trade Center and Hudson Yards dominated the landscape in 2014 by embodying the health of the city's market and, at times, directly feeding adjacent development. The de Blasio administration has won support from the industry on rezoning debates looming in Albany. At the same time, the strength of the TAMI (technology, advertising, media and information) sectors and Gotham's cultural appeal continued apace. Foreign investors spent eye-popping figures and the number of new real estate brokers' licenses issued by the state is the highest in four years.
But all the good news of 2014 also posed queries and qualms for the future, according to more than two dozen interviews Commercial Observer conducted among the city's top developers, brokers, industry leaders and administration officials.
"The biggest story is the attraction of New York as a global city, more so than any one project, because it transcends that," said Fisher Brothers Partner Winston Fisher. "New York is solidifying its position as one of the top cities in the world."
Year One on de Blasio Time
Mayor Bill de Blasio's administration took office on a pledge to address the city's inequalities, particularly its need for more affordable housing. Shortly thereafter, the mayor announced his $41 billion plan to produce 80,000 new units for low- and middle-income residents and maintain 120,000 others over the next decade, and administration officials anticipate the first year will net more than 16,000 units before New Year's Day in 2015, Mr. de Blasio noted last week at a groundbreaking ceremony at an affordable housing development for seniors in the Bronx.
The housing program's success depends on a clear-eyed understanding of the real estate industry, City Planning Commission Chairman Carl Weisbrod told CO.
"If we are unrealistic and demand more than economics can justify, we're going to get no affordable housing," said Mr. Weisbrod. "It really does require a partnership with the real estate industry, but also a deep understanding on our part of the economics of the industry, and on the real estate industry's part, an understanding of the public goals."
Administration officials' willingness to allow for large-scale developments in pursuit of the public goals represents that critical common ground, said BFC Partners Principal Donald Capoccia.
"It shows that the mayor understands how density can support his vision for affordable housing," Mr. Capoccia said. "He seems, from that, to be able to understand what drives our industry. It's normal for the real estate industry to embrace density and height, but it's rare for a mayor to be on the same page."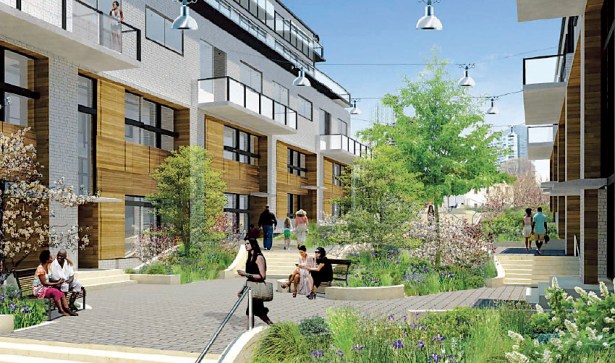 An investment team led by Alma Realty Corp. gained authorization from the administration and the City Council last month to construct the five-building, 1,723-unit Astoria Cove development in exchange for setting aside 468 affordable units on the site, the promise of a new grocery store and potential elementary school site and a $5 million investment to construct a ferry terminal, among other pledges.
Across the river in Manhattan, city officials and representatives for SL Green Realty Corp. are pushing to rezone a five-block stretch of Vanderbilt Avenue next to Grand Central Terminal. SL Green is proposing to build the 1,514-foot skyscraper, 1 Vanderbilt, on the corner of East 42nd Street as part of the first phase of city officials' quest to complete the rezoning of a larger swath of Midtown East that failed in the City Council last year.
"This rezoning represents sustainable transit-oriented development at its best," Mr. Holliday wrote in an email. (SL Green would provide $210 million in transit improvements.) "That's why this approach makes so much sense, enabling the development of new, badly-needed buildings and also providing investment in the transit system that makes this density possible."
But despite widespread support among business organizations, unions and transportation advocates, members of Community Boards 5 and 6 have resisted. Not every member of the city's real estate community advocates a larger Midtown East rezoning plan, either.
"I think Midtown suffers from high density," Time Equities Chairman and CEO Francis Greenburger said. "To make it larger doesn't make sense to me. The notion that Manhattan is suffering from some kind of a dearth of office space doesn't really respond to the fact that, for example, Internet companies have shown strong preference for adaptive reuse of properties."
But key industry figures give the administration high marks for its efforts to work collaboratively with the industry. Before Mayor de Blasio rolled out the administration's effort to cut the city's fossil fuel emissions by 80 percent by 2050 the administration reached out to Real Estate Board of New York President Steven Spinola.
"Deputy Mayor [Anthony] Shorris called me and said, 'We're working on this, and we'd like to go over it with you and get your reaction,' " Mr. Spinola said. "That's an indication that the administration wants the input of the interested parties."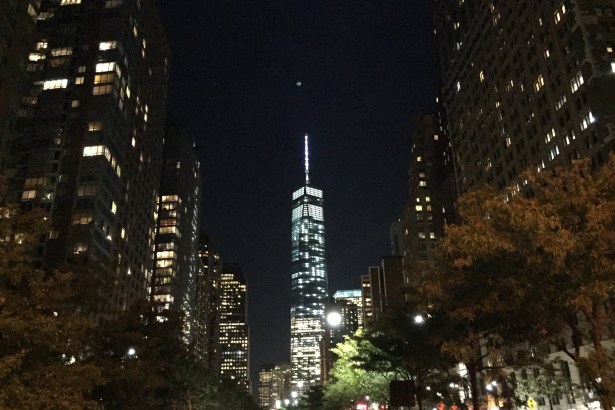 It's All Downtown
Leasing transactions in Lower Manhattan totaled 6.4 million square feet during the first 11 months of the year, an increase of 26 percent over 2013's first 11 months and vacancy rates have dipped to 8.8 percent from 9.9 percent 12 months ago, according to the latest monthly Manhattan office report from CBRE.
"Regardless of the type of space you want, people are realizing that they can get more value in a market that's undergone a transformation," said CBRE's Chief Executive Officer for the New York tri-state region, Mary Ann Tighe, who represented GroupM in the 516,000-square-foot lease that ultimately helped enable construction to restart this fall at 3 World Trade Center. "The typical doom and gloom predictions—all of those have been proven false."
Elsewhere on the Trade Center site, employees of 1 WTC anchor tenant Condé Nast started moving in to the media company's 1.2-million-square-foot spread on floors 20 through 44 last month. New TAMI deals from 2014 such as Time Inc.'s 700,000-square-foot lease at Brookfield (BN) Place and MediaMath's 106,000-square-foot lease at 4 WTC add up to over 1.6 million square feet of TAMI relocations Downtown planned for next year and after, according to a recent report from the Downtown Alliance.
"Downtown has become the destination," said Mark Jaccom president and managing principal of Cresa New York. "In the past, it was insurance companies and financial companies. It ain't that way anymore."
Brookfield Property Partners proved itself capable of attracting all kinds of tenants to the complex across the West Side Highway, closing high-profile signings like Time, Bank of New York Mellon and Saks Fifth Avenue parent Hudson Bay Company.
"We're up to over 95 percent and we're really in advanced discussions on the rest of the space," said Brookfield Chief Executive Officer Dennis Friedrich.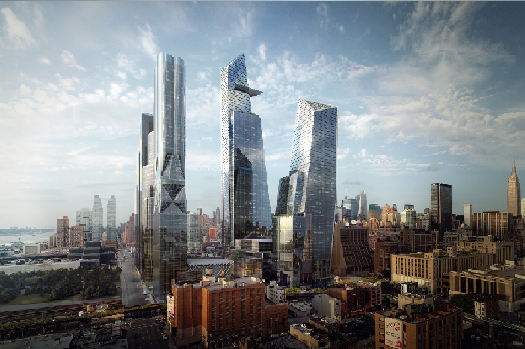 The City on the Far West Side
Another development continued to rise from Manhattan's Far West Side this year as the three-floor Neiman Marcus anchor slated for Related Cos. and Oxford Properties' Hudson Yards complex took shape and Brookfield signed tenants at Manhattan West.
"These are long-term, very strategic projects," said Joseph Harbert, President of the eastern region for Colliers International. "They basically take years and years to develop, but we shouldn't be pessimistic about whether they'll fill up. The West Side is going to happen."
Elsewhere in the area, Moinian Group is currently building the 1.8-million-square-foot, 1,050-foot-tall 3 Hudson Boulevard along a stretch of new public green spaces that will connect to the third phase of the High Line in the Hudson Park and Boulevard.
"We're at that sensitive early stage where I can't mention names," said Arthur Mirante, Principal at Avison Young, which is leading the effort to attract tenants to 3 Hudson Boulevard. "We're having discussions with two major potential anchor tenants. But they're preliminary."
The sensitivity is evident; JP Morgan Chase abandoned plans for a two-tower headquarters in Hudson Yards back in October before opting for a 123,000-square-foot spread at Manhattan West.
"To me, it's a reminder that there is still a lot of price sensitivity in New York City," said Anthony Malkin, chief executive officer and president of Empire State Realty Trust.
Call Me TAMI
"The vibrancy of the city is clearly in the TAMI sector," said Bruce Mosler, Chairman of Global Brokerage at Cushman & Wakefield. "They have really made a profound difference."
Just like in Lower Manhattan, TAMI tenants have remade Midtown South. Class A buildings in Midtown South now command average asking rents of $90.01 per square foot, which is almost $24 per square foot greater than the Midtown average of $66.09, according to the latest quarterly report from ABS Real Estate Partners.
But Midtown South's rally may not maintain its pace, said ABS co-managing partner Gregg Schenker. "Rent growth in Midtown South should flatten," Mr. Schenker wrote in an email. "Midtown and Downtown have wonderful offerings representing excellent value alternatives."
Another factor might also affect the industry's hottest tenant class: their profitability.
"It will be very interesting to see how long this private equity funding will continue to support these start-up companies," said Mr. Malkin of ESRT, who noted that Empire State Building tenants like LinkedIn and Shutterstock show stable business models. "The private equity funding to the TAMI sector masks how much these start-up companies fail."
Real Estaters as Students of Millennials
The latest developments cater to a generation of people who want to go to work without dozing in an old-fashioned cubicle.
"When you look at what's happening at Manhattan West and Hudson Yards, it speaks to a trend of people who want to be in a live-work-play environment," said Mr. Mosler, who represents Brookfield in its leasing efforts at Manhattan West. "When you look at the whole neighborhood that has developed, it's one of most exciting in Manhattan."
In the Financial District, MHP Real Estate Services and Clarion Partners bought 180 Maiden Lane in Lower Manhattan this September for $470 million, and the joint venture will now move toward filling 800,000 square feet of vacant space there, in part by providing greater amenities. A new plaza, cafe and rooftop restaurant or executive dining room are in the works said MHP Principal and Chief Operating Officer David Sturner.
"It's all going to be brand new and it's going to be online by June of next summer," Mr. Sturner said. "We have a lot of people inquiring."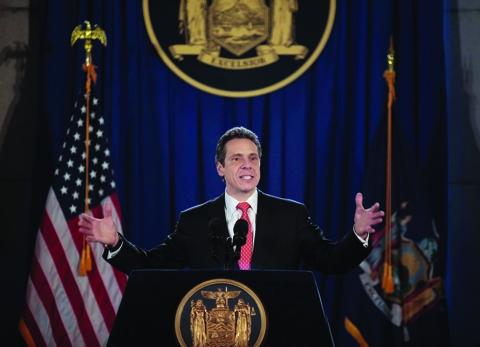 Albany '15
Real estate industry leaders will be watching Albany closely in the coming year.
"The 421-A program is very important to the development market," Massey Knakal Realty Services Chairman Robert Knakal wrote in an email, referring to the tax break offered to property owners in exchange for affordable housing that is up for renewal in June.
"Without that, and without the proper incentives for zoning, there will be no rental apartment housing development, period," said TF Cornerstone's Head of Acquisitions and Finance Jeremy Shell.
But more than that, there is a massive shakeup in one of the players in the drama acted out between real estate and politics: Mr. Spinola will be stepping down after almost 30 years at REBNY at the end of 2015.
"We expect that we're going to be going up to Albany to support the housing plan," he said of Mayor de Blasio's legislative push on the housing program. "We think they're going to provide a menu of options that will work throughout the city of New York."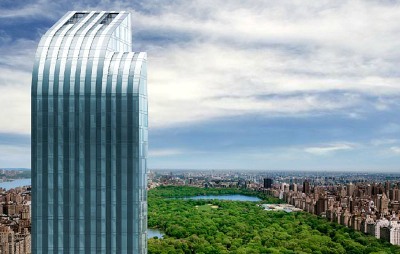 Everyone's Priced Out
The affordability of New York City affects elections and real estate companies alike. With sales like Chinese insurance company Anbang Insurance's $1.95 billion purchase of the Waldorf-Astoria rocking the property market and luxury penthouses fetching north of $90 million dollars at One57 and 432 Park Avenue, real estate industry leaders have expressed concerns about the city's future.
"If your workforce can't afford to live within close proximity to where you need them, you have a challenge to running the business," Mr. Harbert of Colliers International said. "Are we really paying people what they need to make to afford the rent at all the new developments?"
All the record sales in today's market have made an impact, GFI Realty Services President Michael Weiser said.
"That all has trickle down effect because it's bringing the bottom up," Mr. Weiser said. "That is really what's driving the market. Where in New York City can you get a nice apartment for $1,200 a month or less? We all know the answer to that, and it's nowhere."
"Supply over the coming years is going to realign demand," said Stuart Siegel, New York City Chief Executive Officer of Engel & Völkers, the high-end German brokerage house, which opened its first office in New York in May. "That has to have an impact on prices."
Brokers as Bellweather
New York State issued 3,472 new real estate broker licenses and 18,559 renewals in the first three quarters of the year, according to officials with the New York State Secretary of State. If that pace continues, the state would grant 4,340 new licenses in 2014, more than any of the previous four years.
The year played out with high-profile acquisitions and sales of brokerage houses. A group led by private-equity firm TPG closed on the purchase of Cassidy Turley for an undisclosed amount in October, and London-based Savills acquired Studley to form Savills Studley after a $260 million purchase earlier in the year. Newmark Grubb Knight Frank's parent company BGC Partners is buying Apartment Realty Advisors for $110 million, The Wall Street Journal reported earlier this month, and Massey Knakal also hit the market this year, with CO sister publication Mortgage Observer reporting last week that Cushman & Wakefield is close to purchasing it for $100 million.
Mr. Knakal's sales team at Massey Knakal closed over $2 billion worth of transactions in 2014, a new record, and will carry a pipeline over into the new year that should set a new high.
"There will be a record number of buildings sold in New York City this year," Mr. Knakal said. "So the question is whether 2014 is a reply of 1988 or 1998. Both of those years were cyclical peaks in volume. After 1988, the market crashed. After 1998, the market rallied for another nine years. As we see things, the upside potential in the market outweighs the downside risks, so we see 2014 more like 1998 vs. 1988."