SoulCycle Takes Final 5 Bryant Park Retail Space
---
---
Indoor-spinning chain SoulCyle has cruised into a 3,359-square-foot ground-floor space at 1065 Avenue of the Americas, rebranded 5 Bryant Park, bringing the two-level 40,000-square-foot retail space to 100 percent leased, Commercial Observer has learned.
The 15-year deal was signed two weeks ago, said Patrick Smith, an executive vice president and principal at SRS Real Estate Partners. Mr. Smith and colleagues Corey Zolcinski, Matt Ogle, Erin Grace, Mark Kapnick represented the landlord, Equity Office, in the deal.
Jeffrey Roseman, an executive vice president at Newmark Grubb Knight Frank, represented SoulCycle. He declined to comment.
SoulCycle's taking rent was $175 per square foot, Mr. Smith said. Asking rents for the retail space range from $100 per square foot on the lower level to $250 per foot on 40th and 41st Streets to $350 per foot inline to $400 per foot on the corner, Mr. Smith said.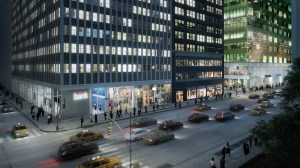 The 40,000-square-foot space "was originally a Dime Savings Bank and then it became Staples and now it's been completely repositioned with a new facade," Mr. Smith said. "We pulled back the ceiling to reveal a 22-foot ceiling height and brand new services. It really is quite remarkable." He noted that the entire space has been leased within one year.
SoulCycle joins Citibank, which in October took 4,524 square feet in the building; Coffeemania, which the same month took 6,601 square feet; Academia Barilla, which signed for 2,751 square feet in October; Blink Fitness, which leased 18,767 square feet in October 2013, the same month Organic Avenue signed a lease for 1,686 square feet. Other than Blink Fitness and Organic Avenue, which are both open, the retailers will be opening in the second and third quarters of 2015.
This retail space combined with Equity Office's 120,000 square feet of retail space at 3 Bryant Park between West 41st and West 42nd Streets is creating a district for 160,000 square feet of retail which will all open within the next 12 months, Mr. Smith said.