The McSam Hotel Group Founder is McLovin the Garment District
---
---
It is obvious how much real estate professionals love limited-service hotel developer Sam Chang, the prolific developer who is behind numerous Hilton Gardens, Comfort Inns and Holiday Inn Expresses.
A number of people who have worked with the president and chief executive officer of Great Neck-based McSam Hotel Group said the same things: He's decisive, he doesn't get mired in minutia, he's a handshake guy and he has the uncanny ability to retain details on more than a dozen deals in his head at the same time.
"Sam is a fantastic client to deal with as a broker," said Robert Knakal of Massey Knakal Realty Services. "He is very fast, decisive and has the capability to do transactions of all sizes. So you never waste time with him."
Mr. Chang is in contract to buy the industrial loft building at 338-340 West 39th Street for $22.5 million. It is adjacent to 350 West 39th Street, global digital advertising agency R/GA's home, which the hotelier picked up for $112 million a couple of months ago. Mr. Knakal brokered both deals.
The Chinese-born Mr. Chang, who says his "Chinese is as lousy as my English," told Commercial Observer during a recent interview that he has completed at least 60 hotels in New York City and still owns 20, has five under construction and has five more under development. He claims that he is the only person to have built hotels in all five boroughs.
But Mr. Chang has had a particular affinity for the Garment District.
In August, Mr. Chang picked up 334 West 36th Street from the Postgraduate Center for Mental Health for $50.8 million. He is building a 35-story Holiday Inn at 585-587 Eighth Avenue near 39th Street. In April, he secured a roughly $25 million bridge loan to fund the acquisition of a development site at 326 West 37th Street between Eighth and Ninth Avenues.
"I can't buy land anywhere else in New York City," he explained. "It's too expensive. The only place I can still buy for [hotels] is the Garment District between Eighth and Ninth Avenues because the land is still reasonable enough to buy. But not now, not [any] more. I can't find anything anymore."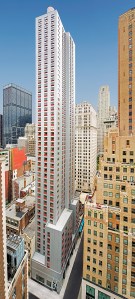 Gene Kaufman, who has worked with Mr. Chang since the 1990s and is Mr. Chang's architect at 326 West 37th Street, said the hotelier is at the "the forefront of hotel development in New York City. I would say that the boom in the hotel market is largely due to his perception that there was this need and that a successful product could be built successfully and be successful."
Mr. Chang proved it could be done, Mr. Kaufman said, with the building of the tallest Holiday Inn in the world. Mr. Kaufman designed the 453-foot-tall hotel, which is at 99 Washington Street in the Financial District and recently opened. Currently Mr. Chang is a minority owner with Golden Seahorse LLC, which owns the hotel.
Alan P. Miller, a managing principal at 5Points Group, touted Mr. Chang's ability to tackle challenging projects like shoehorning a hotel into a 25-foot-wide lot. He represented Mr. Chang in his purchase of 11 West 37th Street for $8.5 million in January.
"The land is only 25 feet wide," Mr. Miller said. "How many people build hotels on 25-foot lots? I can count on a hand how many people have built hotels successfully from ground up on a 25-foot-wide lot in all of Manhattan."
Mr. Chang's niche is in the low-budget sector, as that's what he knows, and besides, he said, he's "not a high-end person." While on business trips he stays in five-star hotels (at the time of this interview Mr. Chang had just returned from a business trip where he stayed at the Ritz-Carlton, Hong Kong). But for vacation, his only requirement is that the hotel is new.
"I can stay in a brand new Motel 6," Mr. Chang said. "I don't mind."
| | |
| --- | --- |
| "A lot of people believe Sam's magic is in design and construction of hotels [but] he's one of the savviest buyers of sites." —William T. Obeid | |
Mr. Chang went into contract a couple of months ago to sell the building that used to house Blarney Stone Irish pub at 710 Third Avenue for more than $17 million. Massey Knakal's Clinton B. Olsen and Alexander Hayssen are Mr. Chang's brokers in the deal.
"He has a lot of energy," said Mr. Olsen, who is also listing 337 West 36th Street for Mr. Chang. "He definitely has a passion for what he does. He's the best at what he does," meaning "the limited-service and converting, and ability to build, operate or exit, call it 'monetize.' "
William T. Obeid, the president and CEO of Gemini Real Estate Advisors, has bought assets from Mr. Chang including Mr. Obeid's first New York City hotel in 2005, a Howard Johnson at 135 East Houston Street, which he later rebranded the Gem Hotel. Most recently, Mr. Obeid provided capital to Mr. Chang for the building of a Holiday Inn Express at 448 West 48th Street, which Mr. Chang sold about two years ago.
"I think a lot of people believe that Sam's magic is in the design and construction of the hotels," Mr. Obeid said. "While important, I think he's one of the most savvy buyers of sites. He knows how to strike a deal. He knows how to recognize a good deal and then he doesn't hesitate."
While budget-conscious travelers like having cheaper hotel options, not everyone appreciates the aesthetic of Mr. Chang's hotels or his style. "[Mr.] Chang should be considered one of the creators, if not the creator, of the cheap, ugly, set-back hotel movement … that have inundated the city with unfortunate architecture over the past decade, especially in areas like the Garment District," said a hotel development tracker who asked to remain anonymous, as he wasn't given permission to speak to the press.
Moreover, Mr. Chang has had his share of problems, between his use of non-union workers, accusations of flouting city codes, and a recent death at the site of one of his hotels.
He said there were people standing in front of City Hall three days prior to an interview with this reporter in mid-November "handing out [flyers] and saying 'shame on Chang.' "
When asked what the protestors were upset about he said he didn't know. He noted they were saying, "Shame on Chang for doing construction."
In September, a construction worker at a Hilton Garden Inn Mr. Chang is erecting at 326 West 37th Street was trapped and killed by a concrete slab. According to the Department of Buildings, the slab from the adjoining 320 West 37th Street dislodged while excavation construction was being performed and fell on the worker. The DOB issued a violation requiring an Environmental Control Board hearing, or ECB, for contractors not conforming to plans. A partial stop-work order remains on the site, allowing for limited construction work, a DOB spokesman said.
"I was really depressed that whole week," Mr. Chang said. "I shut off my phone and stayed home, I didn't go anywhere for like three days after this happened because people [were] saying it's you and plus I feel bad for the person who died on the project. Even though it's not my responsibility I still feel bad."
Mr. Chang said that he is only a 25 percent owner and a "silent partner" in the project and wasn't in charge of the construction. He also noted that in the wake of the death he hired a press representative to field inquiries about it.
But Mr. Chang said his company is no longer in the construction business. Registration of Mr. Chang's construction company Tritel Construction expired with the DOB at the end of 2012.
That means the McSam Hotel Group—and its 15 employees—focus on hotel development, management and investment. And the man said he does "all my deals myself."
So much for the retirement age of 50 that the 54-year-old Mr. Chang has spoken of.
After suffering losses during the recent downturn, Mr. Chang decided not to retire—so his new target retirement age is 58. In the meantime, he has cut back on his hectic schedule, working 50 hours a week versus the 100 until about a year ago. His workweek is Monday through Saturday, with Saturday relegated to going to job sites "because there is no traffic."
Having cut his hours in half he said, "now I actually enjoy my life."
Mr. Chang has a good sense of humor. He likes to drink, smoke cigarettes and have a good time.
When asked, somewhat in jest, whether his long pinky nail was his "cocaine nail," Mr. Chang responded: "I don't do cocaine. I smoke, I drink, but I don't do drugs. I'm even allergic to marijuana believe it or not. A couple of times when I was young and my friends were smoking marijuana and I tried [it] and [I went] crazy. I can't do it. I'm allergic. So I don't. Everyone who knows me, they know I don't do drugs."
For all of the drinking and smoking Mr. Chang may do, he is able to juggle many projects at one time.
Brian Ezratty of Eastern Consolidated, who brought Mr. Chang into the Postgraduate Center deal, said that Mr. Chang signed the deal within four working days.
"He tells you what he's going to do and he does it," Mr. Ezratty, a vice chairman at his firm, said. "He always comes through. He never bullshits. He doesn't play games. [In] the six deals I've done with him, he's never backtracked. He's never re-traded. He does his due diligence incredibly quickly."
Mr. Chang expressed displeasure that people would have a poor opinion of him.
"One more thing I really want to get out to the people of New York City," Mr. Chang said. "I feel [it's] really unfair [that] everybody just looks at what I did wrong. How about the stuff I did for New York City?"
He added: "You know how many jobs I have created in New York City?" After waiting for a response, he said: "I have created at least 10,000 jobs in New York City" and generated "billions of dollars in taxes."