Report: Midtown Not Among World's Most Expensive Markets
---
---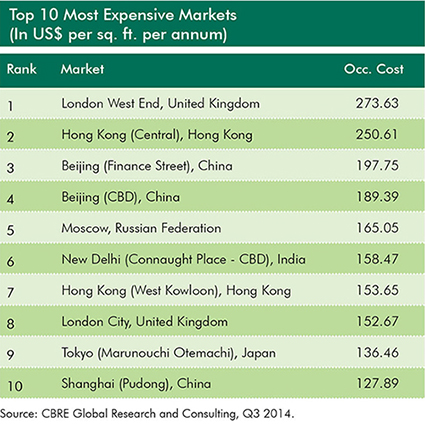 Midtown Manhattan offers some cheap deals–at least relatively speaking.
The most prominent office market in the city, and possibly the country, doesn't register in the field of the world's top ten most expensive submarkets, according to the latest bi-annual global prime office occupancy costs survey of 126 world markets that CBRE released yesterday.
London's West End carried occupancy costs–which include rents, taxes and any other fees associated with taking an office space–of $273.63 per square foot to top the list, followed by the central area of Hong Kong, two neighborhoods in Beijing and parts of Moscow. Midtown places 11th in the report, with an occupancy cost of $120.65 per square foot–the same rank as the last time the company conducted the study.
"Midtown Manhattan is a huge office market with a lot of strong demand," said Richard Barkham, CBRE's global chief economist. "The places at the top of the list have a very serious supply constraint. You don't find that in New York."
But some landlords do command world-class rents in Midtown that may be high enough to push the area into the top 10 one of these days.
RFR Realty asks $175 per square foot at 375 Park Avenue, the Seagram Building, and a "very similar" sum across the street at Lever House, said the company's director of leasing, Steve Morrows. Officials at RFR notice an impact when they raise the going rates for space at the two architectural gems, he noted.
"The Seagram Building and the Lever House building have been some of the leaders in trophy office buildings," Mr. Morrows said. "What traditionally happens is that when Seagram rents rise, all the rents at other Class A buildings, especially in the Plaza District, rise with it. The rising tide lifts all boats."
Such testimonials mesh well with a larger trend of growing occupancy costs in the United States, which saw the highest level of quarterly net absorption since 2007, according to the report. Seattle's 20 percent increase in occupancy costs represents the third-highest increase in the world, figures from the report say. But New York real estate watchers and participants may not want to climb to the top of the heap, Mr. Barkham said.
"It's not necessarily good to be the most expensive city in the world; it plain isn't," he said. "These cities are all competing with one another."