Queens Sees Biggest Chain Store Growth: Report
---
---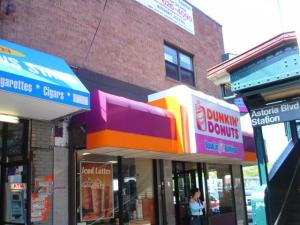 Queens County experienced the biggest growth of national chain stores in 2014, expanding to 1,801 stores this year from 1,663 stores in 2013, according to New York think tank Center for an Urban Future's annual "State of the Chains" report released today. Queens experienced the most growth of the five boroughs, with a 6.4 percent increase in the number of chain stores from last year.
"A lot of the untapped growth opportunities are outside of Manhattan," said Jonathan Bowles, the executive director of Center for an Urban Future, to Commercial Observer. "Queens is one of those places where there are a lot of middle-class residents. The purchasing power is relatively high and more retailers are simply recognizing that."
The Bronx, up to 914 chain stores from 877 last year, experienced the second highest growth rate of 4.2 percent. Staten Island was the only borough that experienced no net change of chain stores in the borough, with 425 stores in both 2013 and 2014.
"Every year we've done this, we've seen an increase in chain stores. And every year, the biggest growth is always outside of Manhattan," Mr. Bowles said. "In recent years, most of the growth is happening outside of Manhattan and that certainly continued this year."
Across the Big Apple, there has been a 2.8 percent increase in the number of chain stores. There are also now 16 retailers with more than 100 stores throughout the city.
For the seventh consecutive year, Dunkin' Donuts is the retailer that has the largest presence in New York City, with 536 stores citywide. This year, Dunkin' Donuts opened 21 stores in the city, the think tank's report showed. Subway, the city's second largest national retailer, has 468 locations citywide and opened one new branch this year.
There have also been retailers who have experienced significant growth in the city in 2014. MetroPCS, a national prepaid wireless service offered by T-Mobile, has the distinction of having the most store growth in the past year. It now has 298 locations citywide, a jump from its 261 stores last year and seven stores in 2009.
Aside from Dunkin' Donuts, fast food restaurant Checkers experienced the most growth in the city among food providers, growing to 28 locations from 18 last year. Chipotle was not far behind, having opened eight new locations in the past year and bringing the total number of restaurants in New York to 51. Sports equipment store Modell's experienced the most growth among clothing stores, growing to 44 locations from 39 last year.
There were also plenty of chains that dramatically downsized their presence in the city. Cold Stone Creamery now only has four locations citywide, down from 15 last year. Plus-size fashion company Ashley Stewart closed eight locations this year, leaving only eight left in the city.
"Every year there are a few stores that end up closing," said Mr. Bowles. "That's always going to happen. The long-term trend is still that chains are coming in."