Omega, Lululemon Sign Deals at Brookfield Place
---
---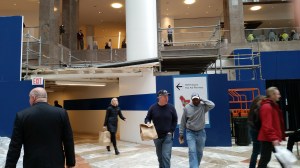 Omega and Lululemon Athletica have signed leases at Brookfield Place, Commercial Observer has learned.
The watch manufacturer signed a lease last month for 3,000 square feet in the winter garden below and to the side of Hudson Eats at Brookfield Place and the yoga apparel company has signed a deal for 2,993 square feet in the courtyard, next to where Jose Garces' Spanish tapas restaurant, Amada, will open, sources with intimate knowledge of the deals said. Omega has even listed an online job posting for a sales associate at the future store. 
Edward Hogan, Brookfield's head of leasing, said the company is asking $500 per square foot on the ground floor and $350 per foot elsewhere, but a source who has done deals in the 300,000-square-foot complex said the taking rent on the ground floor is closer to $350 per foot.
Brookfield Place, at 250 Vesey Street, is 90 percent leased, a company spokesman said. Its retail is slated to start opening in late March, the spokesman added.
As the New York Daily News reported yesterday, Swiss luxury tobacco goods brand Davidoff signed a deal for 1,928 square feet at Brookfield Place. Daniel Alesandro and Richard Hodos of CBRE represented Davidoff. The News also mentioned rumors of a deal for Omega.
Mr. Hogan and consultant Soozan Baxter negotiated the deals for the landlord. John Auber, the president of the Auber Group, represented Luluemon at Brookfield Place. Cushman & Wakefield's C. Bradley Mendelson and Alan Schmerzler represented Omega.
Mr. Schmerzler declined to comment. Mr. Auber didn't immediately respond to a request for comment and Mr. Hogan declined to comment on the deals.