Old New York: 2 Gansevoort Street
---
---
1912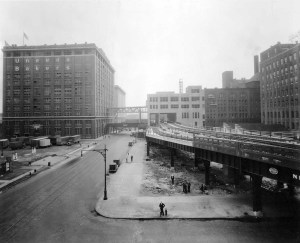 American architect William H. Dewar, Jr. designs a nine-story warehouse and trade school at 320 West 13th Street, located at the intersection of West 13th, Horatio and Gansevoort Streets, in what is now the Meatpacking District. The building's original tenants include the country's first television repair school and the New York Credit Bureau.
1948
The William Kaufman Organization, a family-run real estate operator and owner of New York office properties, acquires 320 West 13th Street in 1948. The new landlord repositions the industrial property as one of the first office buildings in the neighborhood.
1969-1990
The converted 201,000-square-foot office building is given landmark status on April 29, 1969. The E.F. Hutton Life Insurance Company provides a $6 million mortgage on the building in July 1985, city records show. The office loft property is renovated in 1986.
2006-2013
Construction on the 1.45-mile-long High Line begins, within two blocks of 320 West 13th Street, in 2006. The High Line's first phase opens in 2009 and the second phase in 2011. Apple Bank for Savings provides a $10 million loan on 320 West 13th Street in November 2010 to refinance a loan for the same amount provided in 2004, according to city records. Asking rents at the property increase from under $40 a square foot to more than $110 a square foot during New York's real estate recovery, as the surrounding neighbor- hood sees increased activity due at least in part to the High Line.
2014
The William Kaufman Organization renames the property 2 Gansevoort Street and signs a 16-year lease with the contemporary fashion company Theory. The property's owners lock down a $50 million permanent mortgage from M&T Bank in the fourth quarter to upgrade the landmarked office building, Mortgage Observer first reports. The renovations include upgrades to the building's lobby and main entrance, a complete window replacement, and new elevator cabs and controller equipment, to be completed in early 2015. Andrew Singer of The Singer & Bassuk Organization brokers the five-year loan.