Loan Backed By Former Home of Lehman Bros. Defeased
---
---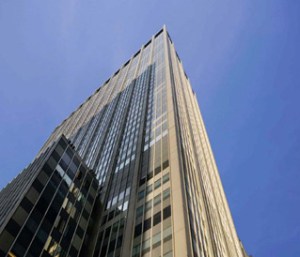 In the shadow of the recession, things did not look fantastic for 1301 Avenue of the Americas. Two tenants, Lehman Brothers and law firm Dewey & LeBoeuf, were casualties of the financial crisis (or, really, a cause of it, in Lehman's case). And while the office building stands 45 stories in prime Midtown, it sits on a less than utterly prestigious strip therein: Sixth Avenue.
But fast forward a few years and bondholders behind the securitized loan on the tower, which was set to mature in 2016, can rest easy. The securitization, LBUBS 2006-1, was reported as defeased, according to data from Trepp released this week.
The $420.8 million loan is one quarter of the collateral backing the deal. With this defeasance—a process wherein sponsors swap out a loan with treasury securities that replicate the cash flows of the loan—one third of the total collateral is now backed by U.S. government bonds, a Trepp alert said.
LBUBS 2006-C1 was also originated by its notorious tenant, Lehman, in 2005. Paramount Group, a New York-based office owner, bought the building for about $1.5 billion when some of Harry Macklowe's assets were sold to settle his debts in 2008.
The Class A building, located between 52nd and 53rd Streets, boasts 1.8 million square feet of space and current tenants include Chadbourne & Parke, Credit Agricole and Barclays. More than 60 percent of tenants have an additional four or more years on their leases, info from Trepp shows.
As Mortgage Observer has reported, defeasance is an increasingly popular mode of avoiding pre-payment penalties and locking in the current low interest rates for CMBS borrowers. Defeasance volume rose 123 percent to $13.2 billion from 2012 to 2013, according to research firm AST Defeasance.