JLL Closes Sale and Financing of Philadelphia's 1635 Market Street
---
---
Philadelphia continues to lure New York real estate investors, as its central business district becomes an appealing alternative to Manhattan and its sky-high prices.
JLL (JLL) brokered the sale and financing of a 19-story office and retail building on Philadelphia's Market Street, the second investment there by Nightingale Group in December, Mortgage Observer has learned.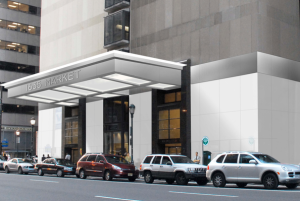 New York-based Nightingale purchased the 286,574-square-foot building at 1635 Market Street, previously known as Seven Penn Center, from Philadelphia's Arden Group for $39 million, according to one person familiar with the deal. Nightingale representatives were not immediately available for comment. JLL declined to comment on the sale price.
Citibank provided a $36.5 million loan for Nightingale's purchase with $30 million to finance the acquisition and $6.5 million to fund upgrades on the property's amenities, a JLL spokesperson confirmed.
JLL Executive Vice Presidents Douglas Rodio and James Galbally and Vice President John Plower led the sale negotiations, while Managing Director Dustin Stolly and Vice President Aaron Niedermayer led the financing negotiations, according to the Chicago-based brokerage firm.
"Lenders were drawn to 1635 Market Street's Class-A status, best-in-class location and value-add component, all of which created a unique opportunity to provide financing for an asset poised to deliver strong returns," Mr. Stolly said in a written statement provided to MO.
The property contains 253,732 square-feet of office space, 22,723 square-feet of retail space and concourse access to public transportation from the lobby. Arden had owned the building since 1995.
"With Nightingale's planned improvements, 1635 Market Street is primed to benefit from growing interest in Philadelphia's CBD from both office and retail tenants looking to plant a flag at one of the best corners in the city," Mr. Rodio said in a written statement.
Earlier this month, Nightingale acquired an office and retail property at 1835 Market Street for about $100 million with a $90 million loan from Starwood Property Trust, also brokered by JLL, as MO reported. Nightingale has made four investments in Philadelphia's central business district since 2011.
JLL's Philadelphia capital markets team expects office sales transactions in the city's central business district to exceed $1 billion this year.
"Philadelphia has been a very stable market historically and performed very well through the most recent downturn," Mr. Rodio said. "But at the end of the day, investors are driven to risk adjusted returns. The yields that can be found today in Philadelphia are 100-200 basis points better than what can be achieved by taking similar risks in other markets like New York, Washington, D.C., and Boston."