Ian Legend: Hotelier Ian Schrager Talks the Lower East Side, Luxury and Nostalgia
---
---
Before he was in the hotel business, Ian Schrager owned the legendary Studio 54 with the late Steve Rubell, a club known for having the most celebrated, the most moneyed, the most glitter-spackled and the most fearless clientele in their ingestion of illegal substances anywhere in the world. Since then, Mr. Schrager went from one form of hospitality to another; he became something of a father figure to the boutique hotel before the concept caught on.
In 1984 Mr. Schrager opened Morgans Hotel, to be followed by a slew of others including the Paramount Hotel and the Gramercy Park Hotel (which, long after Mr. Schrager ended his involvement, was put on the market this fall for an estimated $260 million, according to Crain's New York Business). He also tried his hand at high-end residential real estate with 40 Bond Street, just as that stretch of Noho was beginning to take form. (Current price of a 2,637-square-foot resale at 40 Bond: $7.95 million.)
Mr. Schrager just opened Miami Beach Edition (which he calls an "urban resort") during Art Basel Miami, and is currently at work on 215 Chrystie Street on New York's Lower East Side, which is just a block or so from Keith McNally's new restaurant Cherche Midi, and being designed by Herzog and de Meuron, who also designed 40 Bond. More than any of his competitors, Mr. Schrager has a genius for recognizing a great neighborhood just before it's about to reach its full potential, and has the style to pull off a spectacular, well-designed property. His upcoming hotel/condo on Chrystie Street is expected to consist of 370 rooms and 11 condo units. ("We're now over $4,000 per square foot," Mr. Schrager said.)
The raspy-voiced baby boomer from the Bronx can be coy; unconfirmed news had reached Commercial Observer that he's submitted a bid to develop a hotel at the old TWA terminal at Kennedy Airport. "I can't talk about that," he said with a grin. But he talked a lot about a lot of other topics.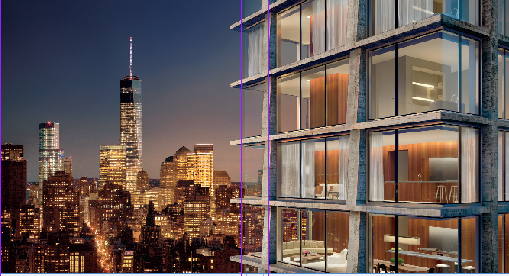 How'd you find 215 Chrystie?
A real estate guy, who I had known over many years, owned the property for a real long time and had called me because he thought it was a piece of property in an area that I'd be really interested in developing, and I was. Ruby Schron and David Siegel were the owners of the property; Ruby's a very big property owner in New York.
Did you want to be on the Lower East Side specifically?
I don't think about the Lower East Side or Soho or Nolita. I wanted to be Downtown. I was anxiously looking for a cool location Downtown and so this popped up. I didn't even know it was the Lower East Side. To me it was across the street from Keith McNally's new restaurant.
That was part of the sell I take it?
And the New Museum, and I saw the new galleries opening there. I think [the activity] made it out to be the next place of art as [galleries] get pushed out of areas where the rents are getting too high like Soho. New restaurants are there and the streets are packed on the weekends, and I thought everything was pushing east from Soho and west from the East Village and Lower East Side and south from Union Square. The Bowery was a fashionable boulevard 100 years ago and I thought it would be again.
You've obviously done that condo construction at 40 Bond Street as well.
Which I love.
It's interesting—you said you didn't think of these things in terms of neighborhoods but it seems like looking at some of the places where you've done stuff you really have a good sense of where these hot locations are. How does that work—is it just because it's Downtown?
No, it's not just because it's Downtown—it's because it's there. Sam Walton [the founder of Wal-Mart], when he used to go looking for locations, he said in his book [Made in America] you'd draw a circle around where the development is and say, "well, the next location is right on the other side of that circle." I knew [Chrystie Street] was right in the center of everything.
Is there a specific concept behind 215 Chrystie?
We always try to capture the ethos of the location—so here we are in this kind of gritty place and we go to this world-class architect and we wanted to use honest materials. We wanted it to be authentic; we didn't want it to be contrived. And we didn't want it to be fake distressed or look like grandma's furniture. When we talked about it we talked about "refined gritty" or "tough luxe," which sort of captures the spirit of the neighborhood. And any time you put together two diametrically opposed ideas they both showcase each other and highlight and make each other look better.
There's a lot of activity in the hotel market right now. Why are so many hoteliers having their moment?
I could give you a whole bunch of theoretical reasons why but basically the single most important is that there is capital available and the capital is giving young people—and in some cases untested people who are beginners—the opportunity to do this. And I think in the same way I went into the nightclub business and everybody wanted to go into that business for a while. I've been in the hotel business—I didn't really know anything when I got started. I've been fortunate enough to have had some success so now I think a lot of young people don't want to do nightclubs right now—they want to do hotels. And now the new wave wants to be chefs. It evolves.
Speaking of the young people who are jumping into this, what would you do if you were starting out right now? 
I still would want to do something visually spectacular. I still would want to do something that had an elevated experience—great entertainment, great food and beverage. But the most important thing is service. Far and away. It's not even close. And it's not "yes, sir, no, sir." It's not obsequious service; it's just good, attentive, personalized, gracious service. When you take that and layer that into these visually spectacular places so on and so forth, you get a kind of alchemy.
What was it like when you were starting out?
Sink or swim. It has been a wild ride for me. I don't think I'd do anything different except one or two things; I was opportunistic and I followed my path. I still love what I do and I'm just as hungry as I ever was and I work just as hard as I ever did. I think the war story I have is not to be afraid of failure because then you're capable of soaring if you're willing to risk it all.
Was there a moment there when you thought "Uh oh?"
Right up until a place opens I am not certain of its success and I think that uncertainty is what drives me to be so relentless and obsessive about every detail and I think I'm not alone in that regard when somebody's trying to [do] something special.
If you're so obsessive about details, is there one significant mistake in your hotels that stands out for still driving you crazy?
I remember when I opened up my first hotel, Morgans, we put up this Beaux Arts façade. We didn't have enough money to do it in real limestone—[so we decided to economize]: where people could touch it, it was real limestone, where they couldn't touch it, it was not real limestone. And we were getting ready to open, we had a bunch of laborers who were cleaning up and so on and so forth, and I walked outside and they were painting it. You can't get paint off the limestone. I mean, that was…
You lost it?
We got it off finally, but I was just … "What are you doing?!" That happened 30 years ago, so it must have had an impact on me.
It seems like every hotel is now a boutique hotel…
You know what it is? Everybody realizes that it's good business. And if there's good design, people think it's mine or they think it's a boutique. Regardless, I think the public benefits. They're getting better hotels and I think that's a good thing.
What got you into the hotel business in the first place?
Do you want the sexy story or the real story?
How about both?
The real story is that when we sold Studio 54 we took promissory notes. And when the guy couldn't pay his promissory note I traded it for his hotel [Morgans.]
What's the sexy story?
The sexy story is that I was in the hospitality business and it's like a nightclub and you got the same goal, and you're looking at the customers and you're looking for them to have a good time so you go through the nightclub and the restaurant, the hotel's the most civilized, complicated part of it.
Do you miss the old New York?
Always. F. Scott Fitzgerald said in the 1920s New York was over. And then I remember my parents talking in the 1950s that New York was over. Now … the nightlife is just totally different than it was. There were a million options, now there are none. What was unique and special about New York then was the shopping, the restaurants, and the theater and the architecture and you can get that in Houston now. That globalization—it's changed things. You used to have to come to New York to make art. I'm not sure you do any more. [But] I believe in New York, in terms of its wealth and in terms of everyone in the world wanting to live here. If you can build something in Manhattan you should do it because it's great real estate.
I always thought that New York was a city of dichotomies—there was a lot of bad stuff and a lot of good stuff. The bad stuff has stayed the same. The good stuff [has] gotta stay good 'cause that makes us tolerate the bad stuff.
To me I think existing generations always think previous generations were better. That may be part of nostalgia, I don't know.