Eastern Union Brokers Construction Loan for Manhattan Beach Development
---
---
Eastern Union Funding brokered an $18.8 million loan from Valley National Bank to help orchestrate a mixed-use development at 102-104 West End Avenue in Manhattan Beach, Brooklyn, Mortgage Observer has learned.
The borrower, Sergey Rybak of Rybak Development, is building a seven-story property there, which will contain 48 market-rate apartment units, three commercial spaces and 70 parking spaces.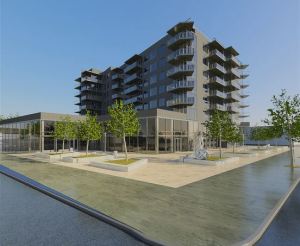 Combined costs for the acquisition of the development site and ground-up construction are estimated at $26 million, according to the broker. Mr. Rybak acquired the site for $8.7 million in January, city records show.
Eastern Union's Jeff Seidenfeld negotiated the 30-month loan, which carries a floating rate of "0.25 percent over prime, with a floor of 4.5," he said.
The borrower pinpointed Manhattan Beach as "one of the more prestigious neighborhoods in the borough, one which is widely known in the real estate world for the head-turning price tags on single family homes," according to a release from Eastern Union provided to MO.
The development, located on Sheepshead Bay, will contain 10-foot ceilings, balconies and panoramic views for all 48 apartments.
"It's a credit to a strong borrower and a robust construction market that this deal was able to close so smoothly," Mr. Seidenfeld said in the release. "We were able to translate the client's vision to a very receptive lender, who, like the client, understands that construction is one of the biggest commodities on the market, and all parties came together to get this thing off the ground."
Mr. Rybak confirmed the details of the development and financing.