Crown Building Sells to Jeff Sutton and GGP
---
---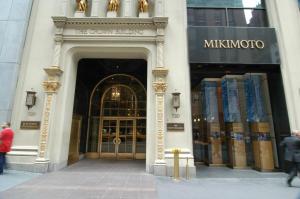 The Crown Building, a jewel of a commercial property located at 730 Fifth Avenue at 57th Street, has been sold to Chicago-based General Growth Properties (GGP) and Wharton Properties' Jeffrey Sutton for approximately $1.75 billion, the New York Post reported today.
The Crown Building was acquired from Spitzer Enterprises, led by former New York Governor Eliot Spitzer, and Winter Properties. The property was on the market for one day. According to the Post, this partnership had purchased the building in 1991 from the Philippine government for $93.6 million.
Bloomberg News reported that at $4,490, the price per square foot is a world record for an entire office building.
Constructed in 1921, the Class A building features 26 stories and roughly 400,000 square feet of space, including 35,000 square feet of retail currently occupied by luxury brands including Piaget, Bulgari and Mikimoto. The Winter Properties website notes the building was the original home of the Museum of Modern Art.
Earlier this year, Cushman & Wakefield released a study that indicated this stretch of Fifth Avenue has the highest rents in the world, with an average of $3,500 per square foot.
This is not Mr. Sutton's first acquired property on this high-end section of Fifth Avenue; he also owns 724 Fifth Avenue, 650 Fifth Avenue and 717 Fifth Avenue.
Commercial Observer contacted Mr. Sutton, who declined to comment on the transaction. Lisa Linden, a spokeswoman for Spitzer Enterprises, also declined to comment on the deal.
Winter Properties did not immediately respond to a request for comment.