AIG Finances LargaVista's 300 Lafayette Site
---
---
American International Group provided a $40 million mortgage to Brooklyn-based LargaVista Companies for the fee simple interest in a development site on Lafayette Street in Soho, Mortgage Observer has learned.
The 20-year, fixed-rate loan was brokered by an HFF team led by Senior Managing Director Michael Tepedino and Managing Director Michael Gigliotti. HFF will also service the loan, according to a representative for the firm. The broker declined to name the lender.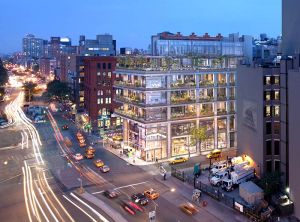 The 11,622-square-foot site at 300 Lafayette, which is now occupied by a BP gas station, will be converted into a seven-story mixed-use retail and office tower in a joint venture with Related Companies. The site contains 365 feet of frontage along Crosby, Lafayette and Houston Streets.
LargaVista has owned the property for more than 30 years, according to Mr. Gigliotti. Related made a $7.5 million investment in the upcoming development project in May, city records show. The total estimated project cost for the 83,000-square-foot development is $200 million, The Wall Street Journal reported in February.
"300 Lafayette is a highly visible and energetic location," Mr. Gigliotti said in a written statement sent to MO. "The lender showed ingenuity in recognizing the value of such a site, despite the fact that the project has not yet broken ground. The impressive vision of the project, the excellent location, and the strength of the borrower combined to merit an attractive permanent financing."
Representatives for AIG and LargaVista were not immediately available for comment.
Update: This story was edited to include details about Related's investment in the project.