Actually, There Are Three TGI Fridays on the Market
---
---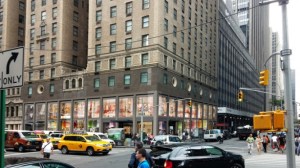 Commercial Observer reported a week ago that there are two TGI Fridays spaces available for lease, but we have since learned that there are actually three on the market.
Fridays at 761 Seventh Avenue at the corner of West 50th Street has been listed for lease with Winick Realty Group. The building has 6,500 square feet on the ground floor, 6,300 square feet on the second floor and 9,650 square feet on the lower level, according to the online listing. A team led by Jeff Winick started marketing the property this month. The asking rent is $800 per square foot on the ground, $150 per foot on the second floor and $100 on the lower level, said Mark Stempel, the vice president of real estate at the Riese Organization, which owns the license for Fridays in Manhattan.
While the location does well as a Fridays, Mr. Stemple said the company can do even better by putting it on the real estate market.
Cushman & Wakefield's Joanne Podell, Ian Lerner, Brandon Singer and Chris Stanton were tapped to lease the three-story, 12,615-square-foot Fridays at 34 Union Square East at East 16th Street and the six-story, 21,000-square-foot 604 Fifth Avenue between East 48th and East 49th Streets.
Mr. Stempel said the asking rent for the ground floor at the six-story, 21,000-square-foot 604 Fifth Avenue retail condominium is $2,500 per square foot. He said he couldn't remember the asking rents on the second and third floors, but that the deal was basically "throwing in the fourth, fifth and sixth floors."
Regarding that property, Mr. Stemple said: "It was evident that the retail on Fifth Avenue was becoming so valuable that a Fridays couldn't keep up in comparison."
As proprietor Dennis Riese, the chairman of the board and chief executive officer of the Riese Organization, previously told CO, Union Square Fridays hasn't fared very well and is just breaking even after four years in business. Riese is seeking $2 million per year in rent for that building.
Meanwhile, a new Fridays opened last week at 211 West 34th Street in a 15,000-square-foot building between Seventh and Eighth Avenues that Riese bought at the end of 2012 for $17.5 million.