William Kaufman Organization Upgrades 2 Gansevoort With M&T Loan
---
---
The William Kaufman Organization closed a $50 million permanent mortgage to upgrade its landmarked office building at 320 West 13th Street, recently renamed 2 Gansevoort Street, Mortgage Observer has first learned.
The five-year loan, provided by M&T Bank and arranged by Andrew Singer of The Singer & Bassuk Organization, will fund tenant and capital improvements at the Meatpacking District office property, according to the borrower.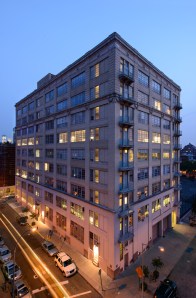 The nine-story, 201,000-square-foot building is seeing increased activity fueled by the area's growing popularity and the ongoing development of the High Line, two blocks to the west.
In recent years, asking rents at 2 Gansevoort have increased from under $40 a square foot to more than $110 a square foot, according to the borrower. Tenants at the property include Ennead Architects, White Columns art gallery and the contemporary fashion company Theory, which signed a 16-year lease for 79,000 square feet there in September.
The building was constructed in 1912 as a warehouse and trade school at the intersection of West 13th, Horatio and Gansevoort Streets. The William Kaufman Organization, a family-run real estate operator and the owner of 777 Third Avenue and 437 Madison Avenue, among other prominent New York office properties, acquired the building in 1948.
The ongoing renovations on 2 Gansevoort include upgrades to the building's lobby and main entrance, a complete window replacement, and new elevator cabs and controller equipment, to be completed in early 2015.
Apple Bank for Savings provided a $10 million loan on the property in November 2010, city records show.
"We are transforming and repositioning this property, not only in name but through significant capital improvements, so that it can take its rightful place as one of the signature buildings in this resurgent neighborhood," Jonathan Kaufman Iger, vice president of Sage Realty Corp., the William Kaufman Organization's leasing and management division, said in a prepared statement provided to MO.