Under Construction: MSK's Josie Robertson Surgery Center
---
---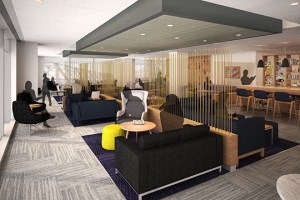 At first glance, a world-renowned cancer hospital and a design firm credited for revitalizing Manhattan's Meatpacking District would appear to be an unlikely pairing.
Yet, Memorial Sloan Kettering Cancer Center has chosen ICRAVE, a design and branding shop behind trendy nightclub Tenjune and dance party lounge SL NYC, for the interior design of its two new facilities, the Josie Robertson Surgery Center and the 74th Street outpatient treatment facility.
"We are completely reinventing the facility from a patient and caregiver experience perspective, creating new opportunities for interaction, reducing anxiety and catering the building to the unique needs of the individual," said Lionel Ohayon, founder and principal of ICRAVE. Typical spaces that were once thought of as waiting areas have been transformed into opportunities for new experiences."
Founded in 2002, ICRAVE calls itself an "experiential" firm that focuses on creating interactive environments for its clients. It has worked with some of New York's most iconic restaurants, including Catch, LAVO, The General and Fig and Olive.
Because of ICRAVE's experience in hospitality, the firm was able to analyze its projects and assess how people use spaces. They then were able to apply these principles to new industries.
The firm expanded from focusing on restaurants and clubs to working on airports, including the JetBlue Terminal 5 Concession Station at New York's John F. Kennedy International Airport and Delta's Terminals C and D at LaGuardia Airport. However, the collaboration with MSK is ICRAVE's first experience designing a venue in the healthcare sector.
When completed, the Josie Robertson Surgery Center will be a 15-story, 175,701-square-foot glass building at 1133 York Avenue, between East 61st and East 62nd Streets, just a stone's throw from the Queensboro Bridge. It will include 12 operating rooms for surgical care on an outpatient basis. It is designed by architectural firm Perkins Eastman and is slated to be finished in 2016.
On its MSK developments, ICRAVE is involved in all non-medical design decisions (it has no influence on the medical side of the projects). The firm is specifically responsible for the design of the Josie Robertson Surgery Center's main reception area and the guest waiting space on the third floor, post-operating rooms and hallways on the fourth and fifth floors, pre-operating rooms and hallways on the sixth floor, and the hospital's staff lounge and dining area.
When making critical choices regarding the spaces' interiors, the firm considered three populations: the patients, their caregivers and MSK staff members.
Mr. Ohayon explained that, for his firm, the project was not solely about the physical design of the space.
"We challenged ourselves to really break down and understand the operational goals of the new facilities," he said.
For the staff, ICRAVE implemented flexible work stations, breakout spaces, a communal kitchen and a market cafe that builds staff unity and responds to daily needs.
The firm also increased the flexibility in patient waiting zones, creating "campsites" that offer families various places to gather.
This includes a cafe and a "breakout area" where loved ones can engage in physical activity and burn off restless energy.
Ophelia Chiu, the design strategy & innovation head at MSK, said ICRAVE took the work her team did with internal stakeholders around the creation of the vision and worked to make it a reality.
"I think that [ICRAVE] has done a really great job taking what were initial concepts or core ideas around what we wanted the patient experience to be at Josie Robertson and incorporating them into the design," said Ms. Chiu. "They are applying a human-centered design approach."
Mr. Ohayon said that was the plan from the start of the project.
"From the beginning, our goals have been to analyze every non-medical touchpoint that patients, caregivers and staff have with the MSK brand to determine ways to enhance the overall experience and delivery of care," Mr. Ohayon concluded.